Introduction to Cadiz-Jerez Costa de la Luz
For in depth and detailed expert information on the Cadiz-Jerez region of the Costa de la Luz, look no further…
Here at The Golf Travel People we have a good level of knowledge of this fascinating golf travel destination as we have been regularly visiting the region since 2004.
With a fantastic variety of options available to visitors, Cadiz-Jerez offers wonderful beaches, ancient history, delicious gastronomy, evocative cultural experiences, splendid golf courses and of course the Sherry wine that derives its name from Jerez – one of the main cities in the province of Cadiz.
The Route of the White Towns – taking in historic and beautiful places such as Medina Sidonia, Arcos de la Frontera, Vejer de la Frontera, Benalup Casas-Viejas and more – offer some excellent days out sightseeing in these historic and evocative hilltop villages and is highly recommended on a day when you are not playing golf.
So, golfing visitors to Cadiz-Jerez are sure to find an excellent destination for a first class golf holiday in Spain, but combined with the myriad opportunities to experience plenty more that the province has to offer, your golf break in Cadiz-Jerez is sure to stick long in the memory and entice you back time after time…
Location Map of Cadiz-Jerez in the Costa de la Luz
When to Travel to Cadiz-Jerez in the Costa de la Luz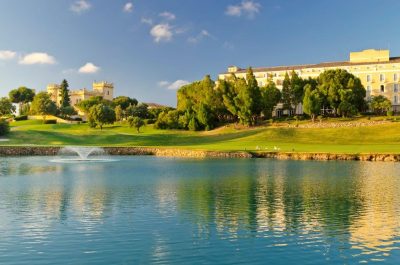 When is the best time to travel for  golf break in Cadiz-Jerez region of the Costa de la Luz?  The answer to this question is actually "anytime", but of course some months are slightly better for golf than others…
Because of the long coastline the region benefits from moderately warm temperatures even through the long summer months, so the highs are never too high and lows are never too low!  So perfect golfing conditions can be enjoyed all year in Cadiz-Jerez.
However, high season for golf in the Cadiz-Jerez region of the Costa de la Luz is from March to May and then again from mid-September to mid-November each year when playing conditions are considered to be at their very best.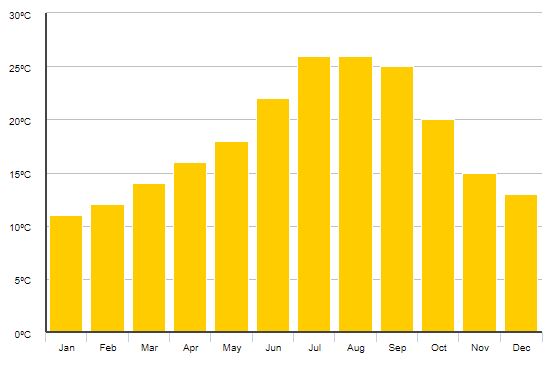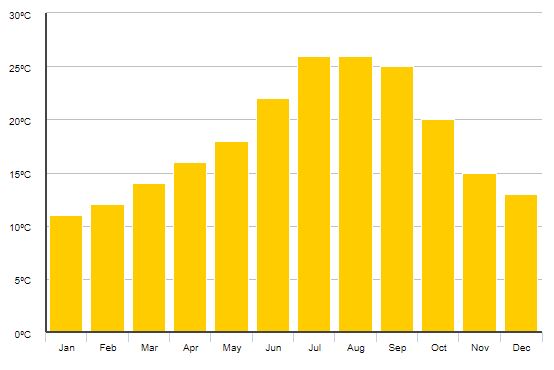 Average Temperatures in Cadiz-Jerez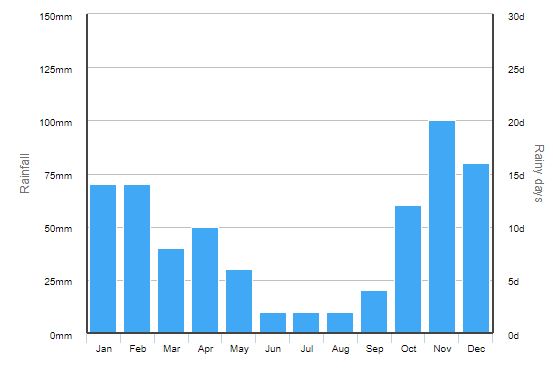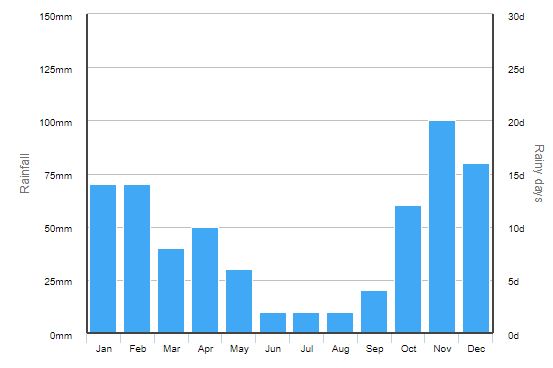 Average Rainfall in Cadiz-Jerez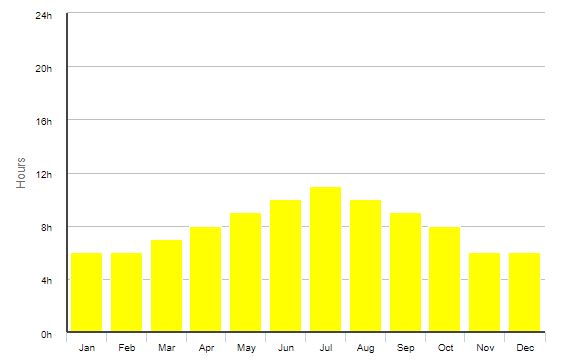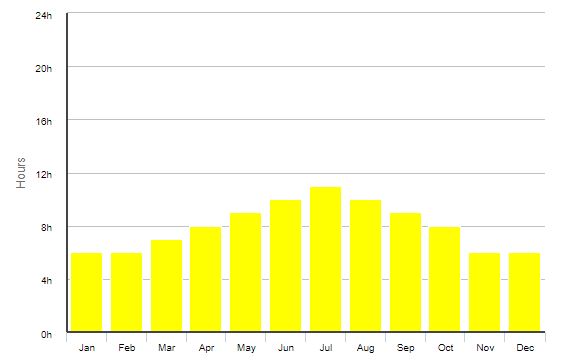 Average Daily Sunshine Hours in Cadiz-Jerez
Top Tip from Andrew at The Golf Travel People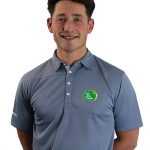 "Travelling for a golf break in Cadiz-Jerez in the Costa de la Luz is popular all year around, but in my view the "shoulder seasons" are the best time to travel.
Avoiding the expensive Easter holiday is also another good option if you are looking for the best value for money, but even during summer and other traditional holiday periods, you will find the prices in Cadiz-Jerez to be cost-effective anyway, so year round travel to this excellent golf destination is a viable option for visitors on all types of budget!
Weather-wise you can expect good conditions all year around, but obviously in a marine environment it is possible to get strong sea breezes and the occasional storm of course!"
Getting to Cadiz-Jerez Costa de la Luz

The Cadiz region is so easy to get to, with an excellent little airport (Jerez Airport/XRY) just to the north of the provincial second city of Jerez.
Although not as well served from the UK as other Spanish airports, there are usually direct flights to be found to Jerez from at least a few UK airports most of the year.  For visitors form other parts of Europe, Jerez has excellent flight connections to many cities.
With many of the region's golf resorts being less than 30 mins drive from Jerez Airport, if you can source direct flights to Jerez then you have made a great start to your golf holiday in the Cadiz-Jerez region!
In the event that you cannot source a flight to XRY, then Seville, Gibraltar or Malaga Airports are also great options to use as a gateway to golf in Cadiz as they are all within 2 hours drive of the central area of the province where all the golf resorts are located.
Top Tip from Dan at The Golf Travel People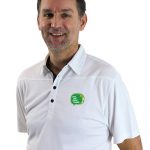 "On most of the occasions I have visited Cadiz for a golf break, I have had to fly to Malaga Airport because for some time flights from our home airports in the north of the UK weren't readily available.  However this situation has now improved a lot with many airlines now flying direct to Jerez from a broad range of UK and European airports.
Whichever way you get there, once you have landed in Spain the road network is excellent and your rental car or airport transfer service will be available to whisk you through to your chosen Cadiz-Jerez golf resort in now time at all!  So, don't be put off by a slightly longer than preferred airport transfer time – the destination at the end of your journey is well worth the effort!"
Our partners recommend...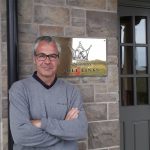 Our long-time colleague and friend Antonio Abellán Riba, Golf Sales Manager Spain for Meliá Hotels International (right) recommends the following places of interest in Cadiz-Jerez Costa de la Luz: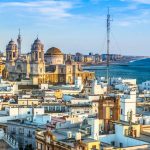 "First, you have to know when travelling to Cadiz is that with 99 % of accuracy is probably is the oldest city in Occident, dated around 1.100 Before Christ.
Cadiz as a province is a mix of cultures surrounded by white sand beaches but also mountains in the Natural Park of Grazalema. Cádiz is well known by gastronomy, wines and culture all around.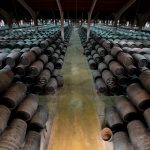 Jerez de la Frontera is the most populated city and worldwide known by "the Sherry wines" with dozens of well-known wineries where to do a guided wine testing with local products. The "Tabanco route" join several of the places dedicated to the Sherry wine and food that are specialised to offer the tourists a local Experience to a very reasonable price.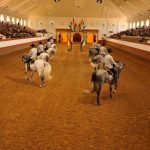 Also Jerez is known because of the Spanish horse; it is thought that our horses existed in the Iberian Peninsula as far back as 3,000 years ago. The Spanish horse was the most highly appreciated in Europe for several centuries and it is easy to see portraits of the age where Kings and nobles appear mounted upon Spanish horses. You can visit the "Fundación Real Escuela Andaluza del arte Ecuestre" and "Yeguada de la Cartuja" where the Spanish horses are bred.
Jerez has many cultural events such as Easter processions of Holy Brotherhoods, World motorbike championship and "La feria del caballo (the horse fair)" dedicated to this emblem of the city and also to the Sherry wine."
Cadiz-Jerez Costa de la Luz Golf Clubs & Golf Courses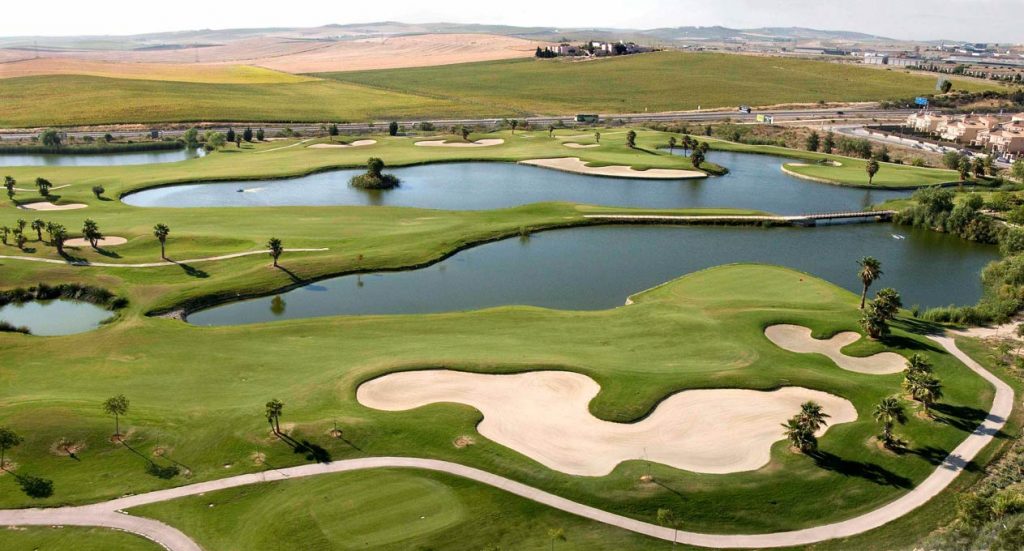 Selected as the venue for the International Association of Golf Tour Operators "Spain Trophy 2020", the pedigree of golf in the Cadiz-Jerez region of the Costa de la Luz in South Western Spain is without question.
Added to this modern accolade, the history of the region's golf courses is littered with top-level professional and amateur golf tournaments and events including Montecastillo Golf Club being a 5-time host course of the season-ending Volvo Masters on the European Tour, and 4 of the region's courses hosting the final stages of the European Tour Qualifying School over a number of consecutive years (Sherry Golf Jerez, Montecastillo, Costa Ballena, Montenmedio).
Celebrated golf course designers such as Jack Nicklaus (Montecastillo), Stirling & Martin (Sherry Golf Jerez), Jose Maria Olzabal (Costa Ballena) and Spanish golf's favourite son Seve Ballesteros (Real Novo Sancti Petri) and many more have all turned their attention to golf in Cadiz over the years and some of their stellar designs are to be found and enjoyed in the region.
With such a variety of designers and styles of golf course, there really is something for all travelling golfers to enjoy – with a multitude of types of golf courses from seaside links to tree-lined parkland, with great mountain and sea views and wonderful bunkering everywhere.
So, check out the full details of golf courses in Cadiz province below and be sure to get in touch to plan your golf holiday in the region very soon…
Top Tip from Jonathan at The Golf Travel People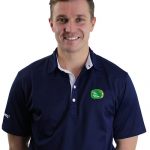 "The Cadiz province boasts some wonderful golf courses in 2 main clusters – around the twin cities of Cadiz and Jerez in the north-west of the province and also in the South East close to Gibraltar where some truly world-class courses are located in the area of Sotogrande.  Both clusters are well worth playing but our Spain's Finest offer is the best value option if you are looking to play the Sotogrande courses that include Valderrama."
Cadiz-Jerez Costa de la Luz Golf Resorts & Golf Hotels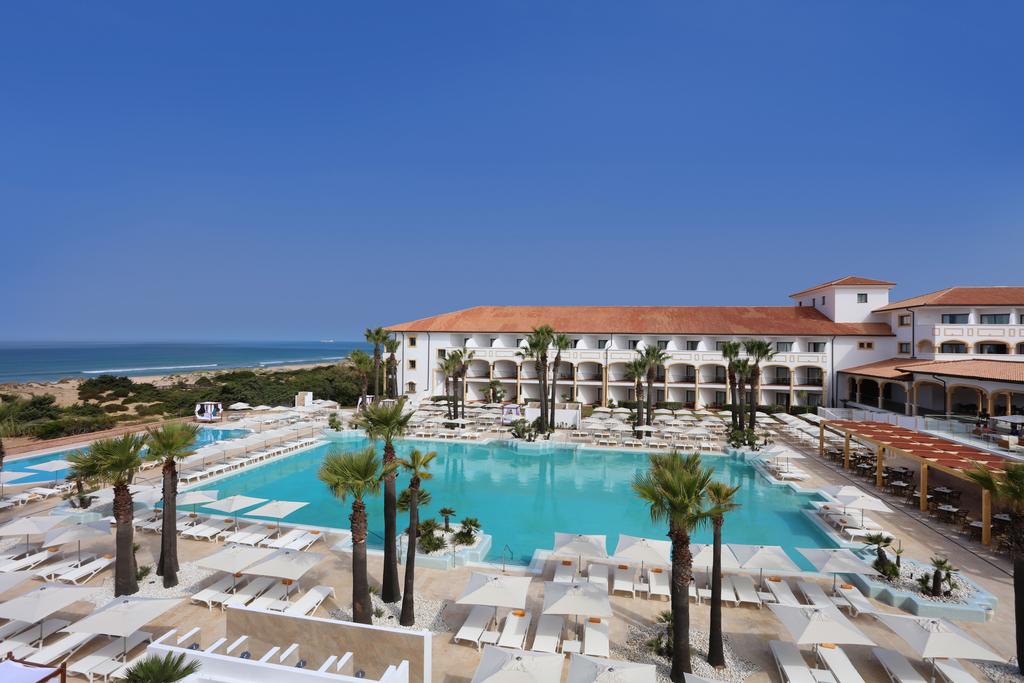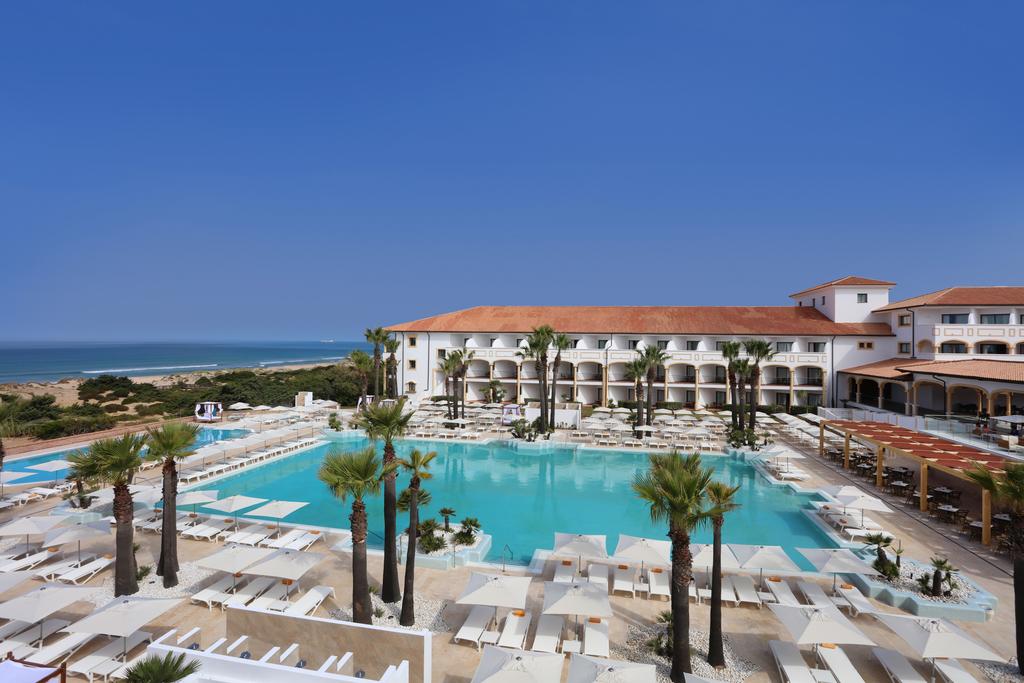 With a range of superb golf resorts and golf hotels, the Cadiz-Jerez region features plenty of great options for visiting golfers to enjoy a golf break in the sunshine of this corner of Spain.
From city centre historic hotels in Cadiz and Jerez which are located close to the city attractions, bars, restaurants and nightlife, thru small boutique-style venues in farmhouse style, right up to full-service 5 star golf resorts – the Cadiz-Jerez region has a wonderful choice of venues to stay at during a golf holiday.
Over the years, The Golf Travel People's clients have particularly enjoyed Barcelo Montecastillo, the Fairplay Golf Resort and the 2 Iberostar Hotels at Novo Sancti Petri and these have been consistently popular with our clients.  But, of course we have many more options available for your golf holiday in Cadiz, so even if your preferred resort or hotel is not listed below, then be sure to contact us with your preferences and we will be delighted to build a bespoke package for your trip.
Frequently Asked Questions about Cadiz-Jerez Costa de la Luz