Golf Buggy Rental Information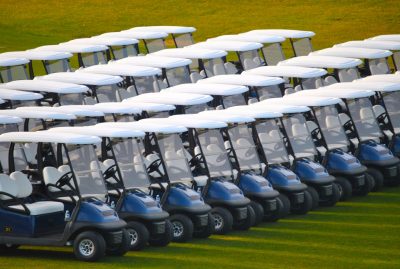 Golf Buggies! They are probably the trickiest issue when booking your golf holiday… compulsory with an extra charge at some courses… not required at all at some flat courses… some of the group want them, some of the group don't… can you drive on the fairways today… or are they to be driven only on the buggy paths… I'm in a group with an odd number of players, so is there a reduction for the buggy for the single player… the list of queries and issues is endless!!
So, here is our concise – but not exhaustive – guide to golf buggies for your golf holiday:
The standard golf buggy rental charge varies from course to course and can also depend on the season, but as a rough guide they start from approx. €30 and can cost up to €70 at certain high-end golf courses, but at most holiday golf courses they are around the €35 – €45 mark.
However, the best value golf buggy rental fees are where we have a "golf & buggy deal" available that includes a green fee for 1 or 2 players with buggy included.  This type of special offer tends to be available in the summer months when the temperatures are high and green fees are low, so a special offer such as this in the summer can be cheaper than just the green fee during the golfing seasons.
Some golf courses only make golf & buggy deals available for multiples of 2 players booking together, so for groups with an odd number of players you will sometimes need to book for example 2 players with the buggy included on the special offer, plus a single green fee with the extra buggy paid on arrival.
Some golf courses – Monte Rei for example – include a buggy with all green fees, so the price quoted includes this service.  We will advise on booking if this is the case.
Other courses simply do not offer a pre-paid buggy option at all at any time of the year and sometimes the best we can offer is a confirmed buggy reservation with the rental fee for the buggy being paid direct to the pro-shop on arrival at the rack rate.
Unfortunately, there are even some golf courses that don't offer any buggy reservation or prepayment service at all, and sadly all that you can do is hope that a buggy will be available for you on arrival for payment at the rack rate to the pro-shop.  Clearly this is less than ideal for most groups, and again we can advise on this when you are booking your golf.  If for medical or other reasons you absolutely must have a buggy please let us know as this will help determine which courses will be suitable for you.
On that point, if you do have a medical certificate from a doctor that shows that you must have a buggy it can be very helpful to let us know about this in advance as it can be the magic key needed to ensure that the golf course saves a buggy for you on the day of play.
Apart from the above points, we can only recommend that you follow all instructions regarding buggy usage provided on the day by the golf course you are playing at, that you have your own fully comprehensive golf insurance that includes cover for buggy use, and that if you want further info about golf buggies at any of the courses we offer that you advise us as early in the booking process as possible.
If your specific query isn't listed or answered here, just give us a quick call and we will do our very best to assist!
Golf Buggies Always Included at the Following Courses...
Frequently Asked Questions about Golf Buggies
Contact us for more information about golf buggies Contact us