Introduction to Gran Canaria, Canary Islands, Spain
Perennially popular with visitors from all over the world, Gran Canaria is one of the most complete tourist destinations in Europe offering an unparalleled combination of great weather, excellent hotels and other accommodation types, an incredible volcanic landscape, wonderful white-sand beaches and blue seas, historic towns and villages, great flight connections and much, much more… trying to find a comparable destination is very difficult as Gran Canaria really does have something for everyone!
Many visitors to Gran Canaria find the experience so relaxing that they don't venture far from their hotels – which is great for many people – but to do this means missing out on the multitude of fantastic experiences and places to see and visit that are so abundant on the island.
Wherever you choose to stay on Gran Canaria, the rest of the island is only a short drive away and it is highly recommended by The Golf Travel People to rent a car for at least some of your holiday as to do so allows flexible access to some of the lesser visited areas on the island including the volcanic highlands with their incredible rock formations and fragrant pine forests, or the capital city of Las Palmas with its city centre beaches, historic old town area and fantastic bars and restaurants etc.
In our view, Gran Canaria offers something for everyone and is highly recommended for a holiday at any time of the year…
Location Map of Gran Canaria, Canary Islands, Spain
When to Travel to Gran Canaria, Canary Islands, Spain
Like the other Canary Islands, Gran Canaria really comes into it's own in the winter months when the excellent climate from November to February is superior to almost any other part of Europe.
Located just off the north-western coast of Africa, the Canaries really do offer an amazing year-round climate that allows visitors and residents to really take advantage of the weather and enjoy their favourite pastimes and activities – including golf of course – for 365 days of the year.
The south of the island tends to have a slightly warmer and drier climate than the north where the capital city of Las Palmas is located, but this is only because of the more mountainous terrain that is found in the north creates marginally less predictable weather – but it is still a very warm and sunny place for the vast majority of the year!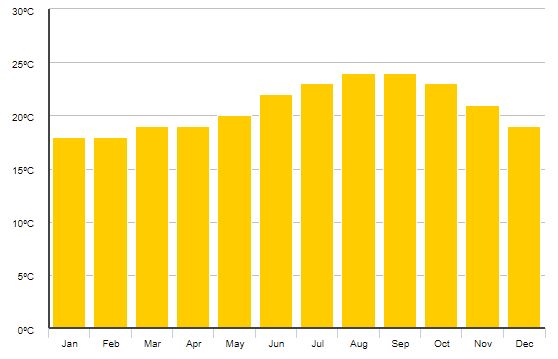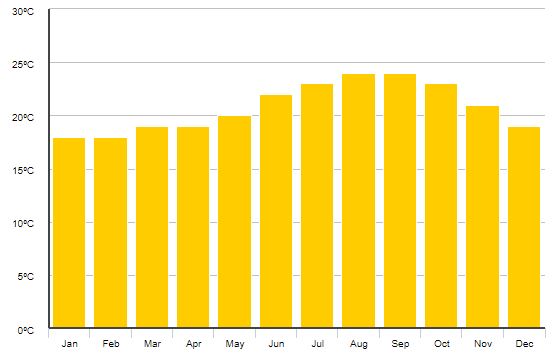 Average Temperatures in Gran Canaria, Canary Islands, Spain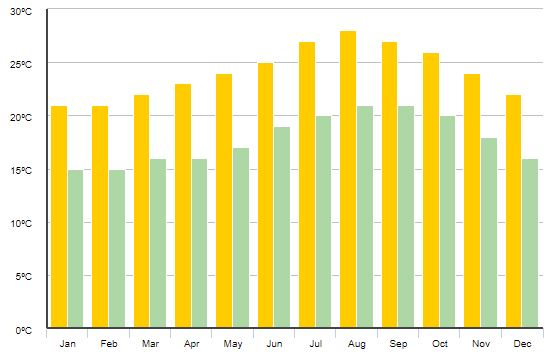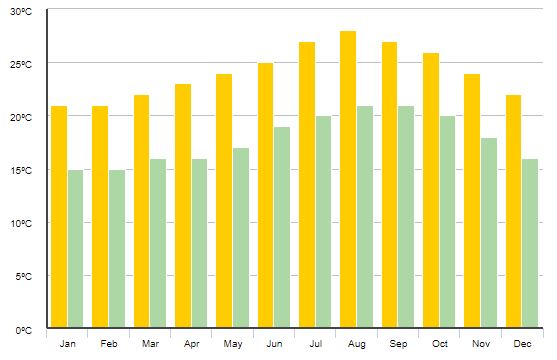 Average Temperature Ranges in Gran Canaria, Canary Islands, Spain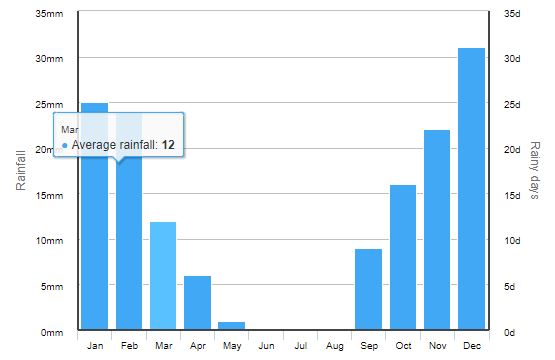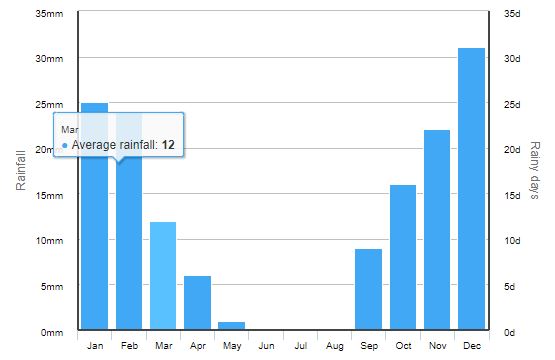 Average Rainfall in Gran Canaria, Canary Islands, Spain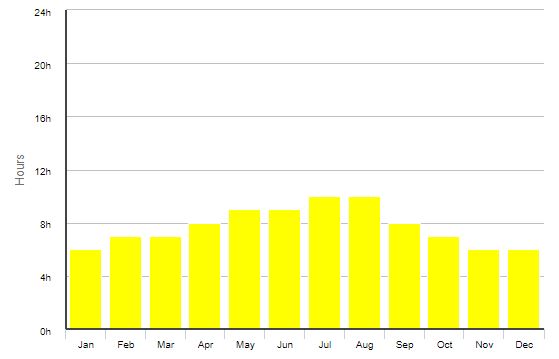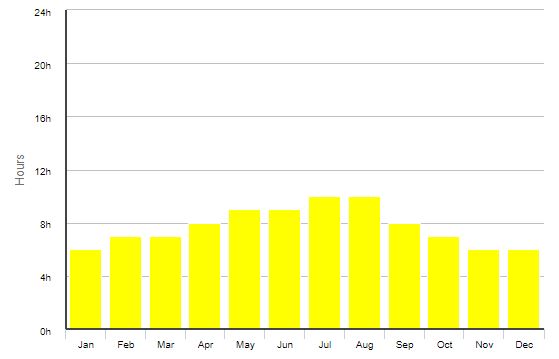 Average Daily Sunshine Hours in Gran Canaria, Canary Islands, Spain
Top Tip from Andrew at The Golf Travel People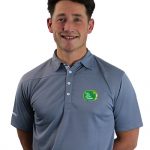 "I recommend a visit to Gran Canaria at any time of the year as even during the winter months the temperatures and overall climate is excellent.  However, this can mean that the prices are the highest between November and February as the Gran Canarian tourist industry understandably makes the most of their significant advantage over other destinations in Europe.  So, it's certainly the place to choose if you are looking for almost-guaranteed winter sun!
However, I prefer to visit the island in the late spring as the temperatures still haven't quite hit their summer peaks – which can be pretty hot – but it's still pretty warm from dawn until dusk – but not too hot to mean that playing golf is uncomfortable.
Whenever and wherever you go on Gran Canaria, a cold beer or a dip in the sea or pool is never too far away, so as a year-round destination it is hard to beat!"
Getting to Gran Canaria, Canary Islands, Spain

Well served by most airlines from all major European cities and airports, Gran Canaria is one of the most well-connected holiday destinations around.
Flight times to Las Palmas (LPA) which is the main airport on the island of Gran Canaria are around 3.5 – 4 hours from the UK and other areas of northern Europe and many airlines have multiple daily flights all year around to access the island.
The airport is modern, spacious and comfortable so even if you do experience a delay there are certainly worse places to have to wait a few hours!
Once landed at Las Palmas the main GC-1 motorway passes very close to the terminal, so your onward journey either by transfer or rental car is quick and simple to get to your Gran Canaria golf holiday accommodation.  The city of Las Palmas is only 20 mins drive to the north of the airport and the resorts around Maspalomas, Meloneras etc are the same drive-time to the south.  Other popular destinations such as Mogan, Puerto Rico etc are just around 30 mins away from the airport too…
Top Tip from Dan at The Golf Travel People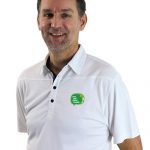 "In my view it is always a good option to rent a self-drive vehicle for at least part of your time in any destination as it gives you the opportunity to do some exploring at your own pace.  However, even if you don't want to rent your own car, I definitely recommend taking an organised tour into the heart of the island of Gran Canaria as the volcanic scenery is quite spectacular!
Driving up to the highlands is quite an experience on the twisting mountain roads and ending your trip at one of the quiet hilltop towns like Tejeda for example is a great way to spend a day on Gran Canaria.
The coastal areas are great with all their activities, bars, restaurants and hotels, but for something completely different and for many people an unexpected side of Gran Canaria, there is nothing better than getting away from the crowds and seeing the interior of this spectacular volcanic island."
Our partners recommend...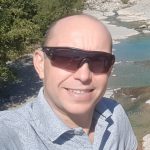 Since working together at British Airways in the mid-1990's, Dan – the MD of The Golf Travel People – has been in close contact with an old friend and colleague Tony Burgarolas (right) who is a resident of the wonderful city of Las Palmas – the capital of Gran Canaria.  Tony has been kind enough to provide us with his recommendations of "must-see"places and events that are on offer on the island… thanks Tony!
"Visiting Gran Canaria to play golf is recommended at any time of the year due to the year round pleasant temperatures.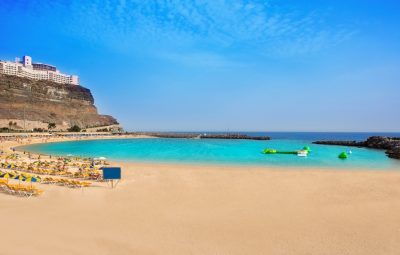 The Southern end of the island enjoys well over 300 days of sunshine each year and is blessed with kilometres long sandy beaches with exotic Saharan style dunes such as Maspalomas, man made family friendly beaches like Anfi del Mar and Amadores (pictured left) and marinas such as Pasito Blanco or Puerto Rico where recreational day trips on cataramans are available on a daily basis.  There is an undeniable holiday atmosphere along most of the Southern coastline with great nightlife and restaurants on offer.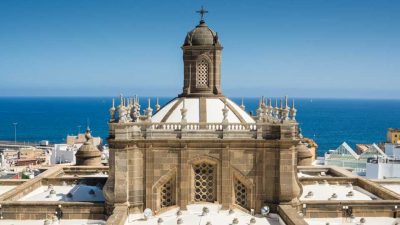 Though many of the golf courses are located in the South, there are several others dotted around the North too.  The Northern half of Gran Canaria comprises the cosmopolitan city of Las Palmas which has a more authentic Spanish feel to it , with traditional 'fiestas' and cultural events.Here you will find the historic area of Vegueta with its cobbled streets , the city's cathedral Santa Ana (pictured right), weekend markets and bustling 'tabernas' and open air terraces.  High end restaurants and tapas bars compete for customers throughout the city.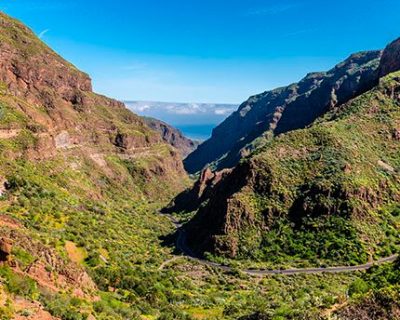 A visit to Gran Canaria wouldn't be complete without a stop at one of the sites where the original pre-Hispanic inhabitants lived such as the Valley of Guayadeque (pictured left) halfway between Las Palmas and Maspalomas or the Caves of Valeron along the northern coastline which has been declared an Historical Artistic Monument by royal decree.  Some of the caves in Guayadeque have even been turned into little bistros serving delicious local tapas!
All in all, Gran Canaria offers something for everyone… and great golf too!"
Gran Canaria, Canary Islands, Spain Golf Clubs & Golf Courses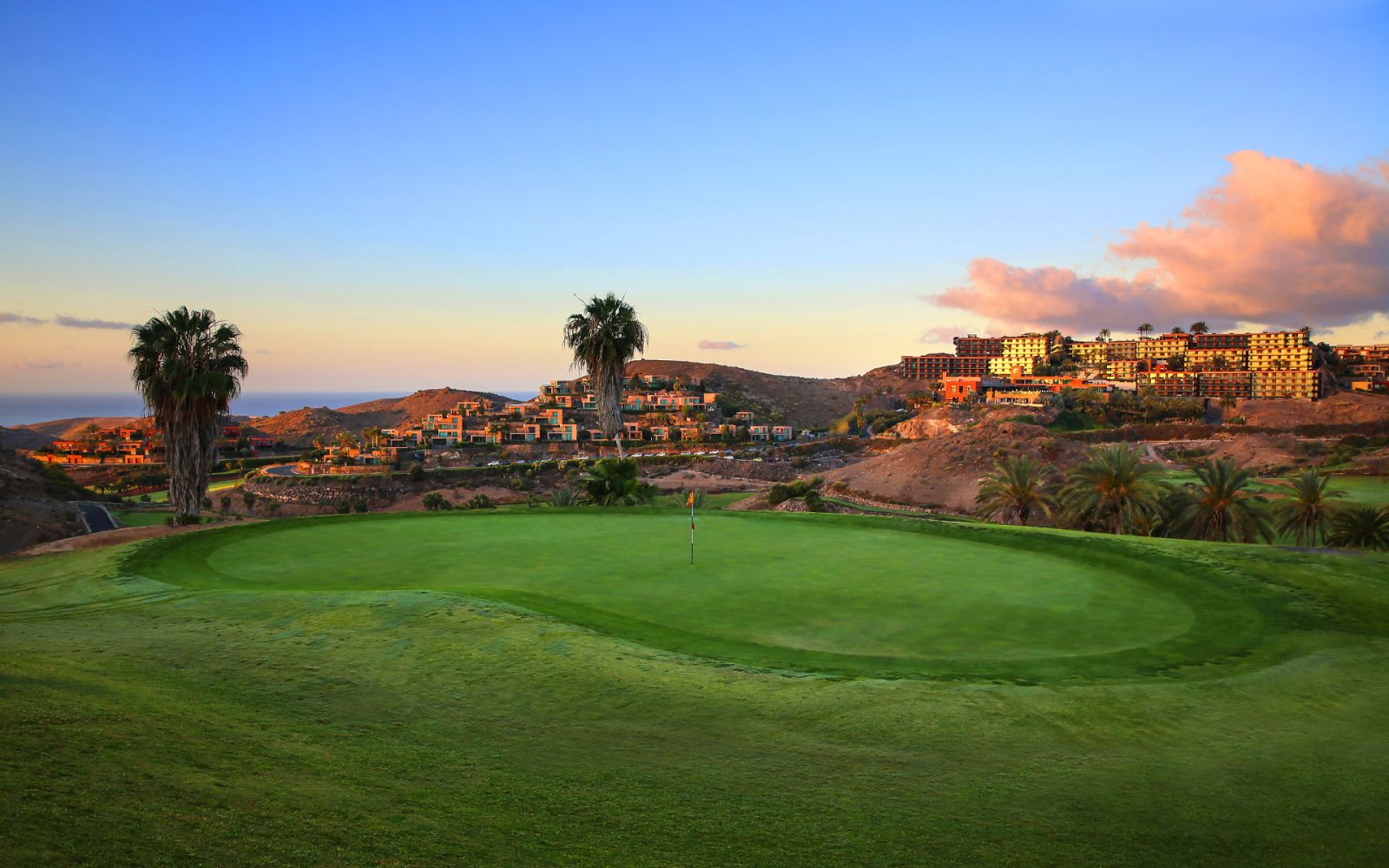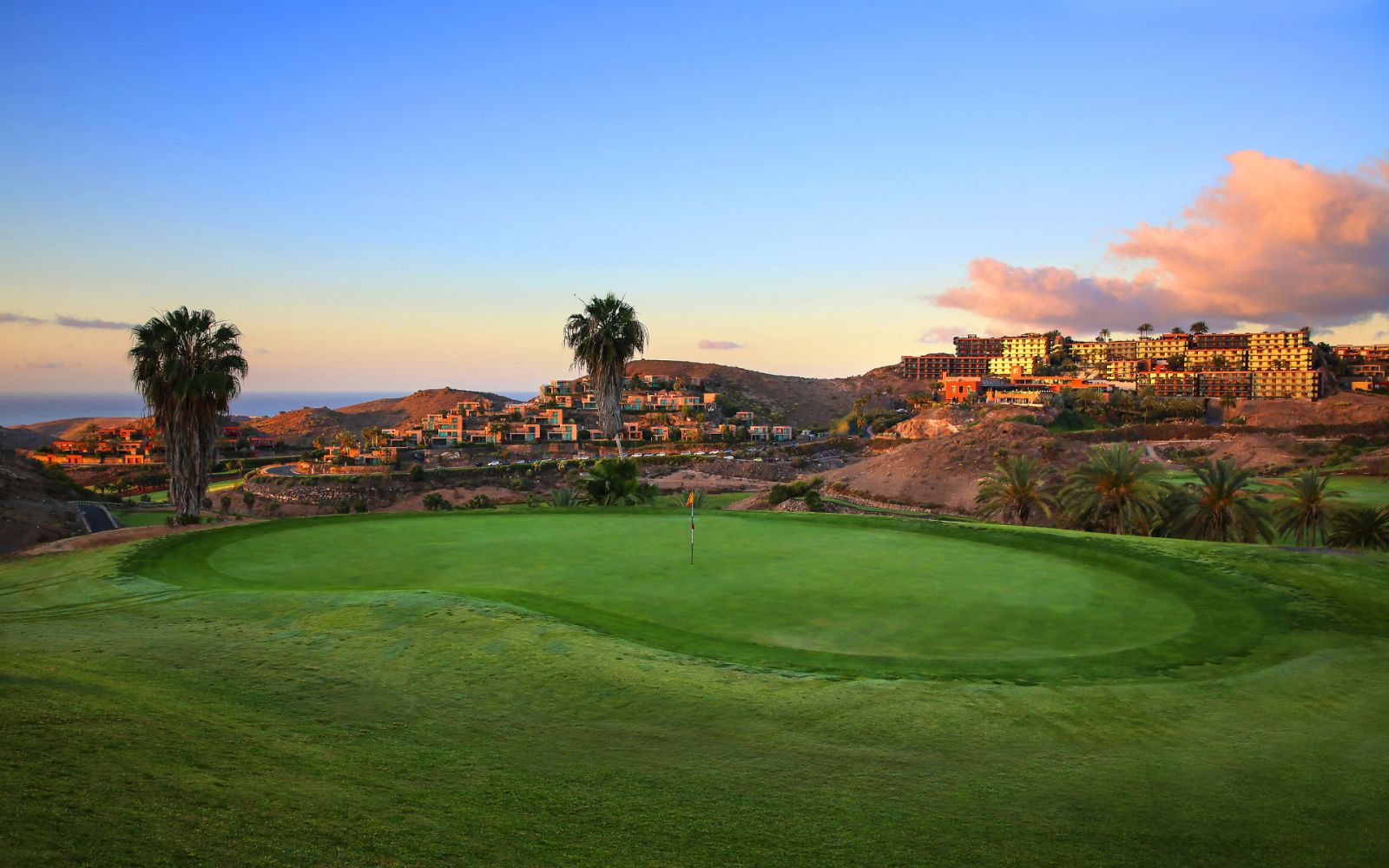 One of the highlights of a golf break in Gran Canaria is surely the opportunity to experience a round of golf on Spain's oldest golf course at Real Club de Las Palmas (aka Bandama Golf) that occupies a crater-edge location just to the south of the city of Las Palmas.  With some of the truest greens to be found anywhere, Bandama really must be included on any golf holiday itinerary on Gran Canaria.
Since RC Las Palmas was opened, golf has really developed on the island of Gran Canaria and as such there is now a great selection of courses all located to the south of Las Palmas that offer a range of golf course design styles from open parkland at Maspalomas, right through to the American desert/target style at Anfi Tauro in the far south of the island.
Gran Canaria golf courses have had the honour of hosting many professional and amateur tournaments including the Spanish Open on multiple occasions, so the quality and pedigree of golf courses available is unquestionable…
The Gran Canaria Golf Pass is a fantastic innovation unique to the island that offers visiting golfers the chance to play 3 or 5 times at any of the 7 courses on the island for the same price during a 7 day period.
Top Tip from Jonathan at The Golf Travel People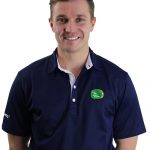 "As previously mentioned, the Gran Canaria Golf Pass really is the best way to enjoy your golf on the island as it offers maximum flexibility at the very best price for all 7 of the wonderful courses here.
If pushed to select just 3 of the courses I would recommend playing my choices would be RC Las Palmas simply for the history of the venue, alongside Lopesan Meloneras with it's excellent seaside location and wide forgiving fairways, plus Anfi Tauro in the south for a unique golfing experience.
That's not to say the other 4 golf courses on Gran Canaria shouldn't also be played… I also really like the Salobre Golf courses set in a rugged volcanic landscape."
Gran Canaria, Canary Islands, Spain Golf Resorts & Golf Hotels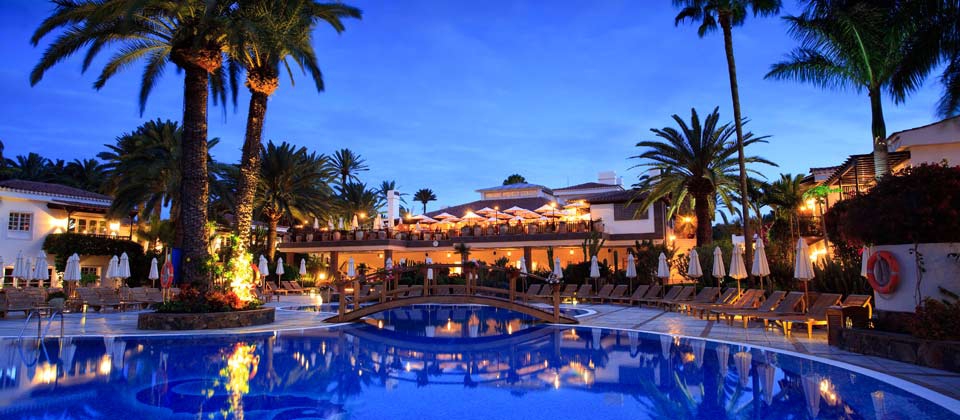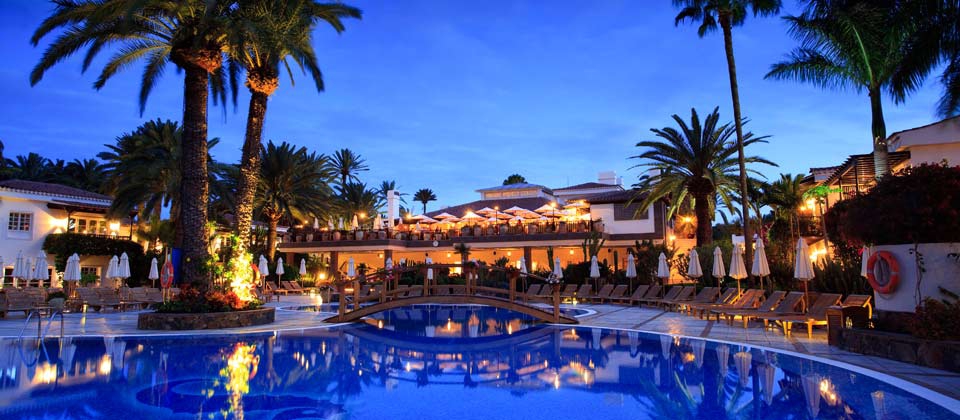 We know of few holiday destinations with as much choice for your accommodation as Gran Canaria, so although we only feature a small selection of hand-picked hotels that we believe are suitable for our clients, if your preferred hotel isn't listed below then do let us know here at The Golf Travel People about where you prefer to stay as we will certainly be able to assist.
With only 3 true "golf resorts" at Anfi Tauro, Salobre and Bandama too many golfers don't necessarily think of Gran Canaria as a real golf holiday destination.  However, this is simply not the case as many of the hundreds of excellent hotels and accommodation providers on the island offer their guests great stay and play deals and packages to access Gran Canaria golf during their stays.
Putting together a Stay & Play golf package on Gran Canaria is made very simple by combining your preferred accommodation with the super-flexible Gran Canaria Golf Pass (see above) and we will be delighted to recommend one of our hand-picked partner hotels as listed below if you aren't quite sure about which would suit you best.  Simply let The Golf Travel People know your preferences and we can do the rest.
From ultra-luxury 5 star hotels right through to cost-effective self-catering options, Gran Canaria really does offer holiday accommodation for all tastes and requirements!
Frequently Asked Questions about Gran Canaria, Canary Islands, Spain