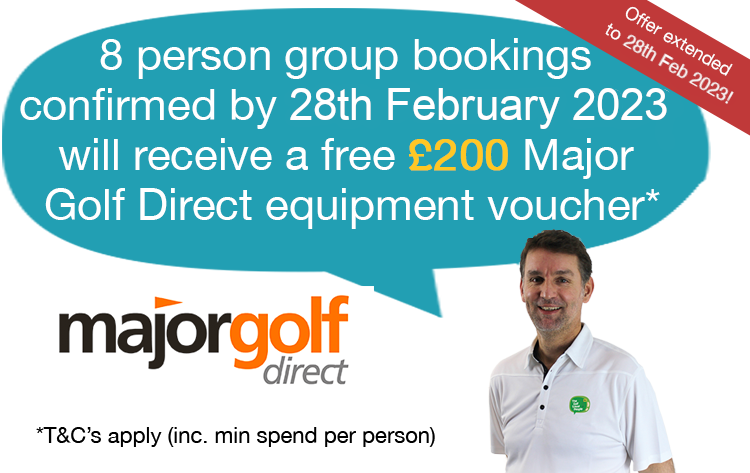 Free Golf Balls?
Yes please!
Free Golf Clubs?
Yes please!
Free Golf Clothing?
Yes please!
The Golf Travel People are pleased to announce our winter booking promotion valid for all group bookings placed before February 28th 2023!
For every group of 8 people booking a Stay and Play package between the 26th December 2022 and the 28th February 2023 for travel by 31st March 2024 and spending over £550pp, we will provide a £200 voucher to spend with our golf equipment partners at Major Golf Direct.
Just think what a prize table that could provide for your group golf break:
You could either buy some prizes in advance such as a couple of hybrids, or a wedge and some boxes of balls
You could award the whole voucher to the winner of your competition on the holiday booked with The Golf Travel People
You could purchase a single item as a 1st prize – such as a driver
Or, you can take an order from each person in your group for a box of golf balls each to keep them supplied with ammunition during the golf break.
If you are the group leader and have done all the organising of the group, then you probably deserve a bit of an award for your efforts, so the voucher can be issued direct to you alone (although we will still require full contact details for the rest of the group to qualify for the voucher).
So, simply check out the details of the excellent group golf break venues below, contact us for a quotation and we will automatically include the voucher info if your itinerary qualifies, and then issue the voucher once the booking has been paid in full and all guest details received.
Terms and conditions apply, see bottom of the page
Frequently Asked Questions
Great Venues for a Group Golf Holiday
Group Golf Holidays in Cadiz/Jerez, Costa de la Luz, Spain
Group Golf Holidays in Huelva, Costa de la Luz, Spain
Group Golf Holidays in Belek, Antalya, Turkey
Group Golf Holidays in Algarve, Portugal
Group Golf Holidays in Lisbon, Portugal
General terms and conditions of the January & February 2023 Group Golf Promotion
The golf equipment voucher will be issued for qualifying bookings only and at the point that final paperwork is issued for the holiday subject to the following criteria being fulfilled:

The booking confirmed is a golf & accommodation package, golf-only bookings will not qualify.

A minimum of 8 people are confirmed on the booking spending a minimum of £550pp.

The booking is confirmed for travel before 31st March 2024.

Opted-in email contact details of all group members are provided to The Golf Travel People at final payment stage. Required elements are first name, surname and email address.  Contact details will be shared with the co-promoter Major Golf Direct but can of course be opted out from either or both co-promoters at any stage via the usual unsubscribe or opt-out mechanisms under GDPR. Participation in this promotion indicates acceptance of these terms in relation to your data. This data will not be shared anywhere else apart from the co-promoters of this promotion as specified.

The voucher is redeemable only at Major Golf Direct online and will only be accepted if the serial number and name on the voucher corresponds with the Golf Travel People and Major Golf Direct records of the vouchers issued.

The voucher must be redeemed before 31st March 2024 and will become invalid after this expiry date.

The voucher itself may be used as a prize for the group competition during the trip booked and can be awarded as such.

No cash alternative is available.

No change will be given from the value of the voucher so it is important that the full voucher value is redeemed in a single transaction.

A single voucher will be issued unless directed otherwise at the time of final payment for the holiday. Only if informed at that time will it be possible to issue individual vouchers to individual group members
Major Golf Direct Voucher Redemption Terms & Conditions
To be redeemed online only at https://www.majorgolfdirect.com/

Full value to be used in one transaction.

Minimum spend will be voucher value

Cannot be used in conjunction with any other promotion, offer or discount code

Excludes price matching and finance

All vouchers will expire on the 31st March 2024 and cannot be redeemed after this date

Free postage applies if you spend £100 on top of the voucher value.