Best Golf Courses in Vilamoura
Published on 1st April 2021 by
Dan Thomson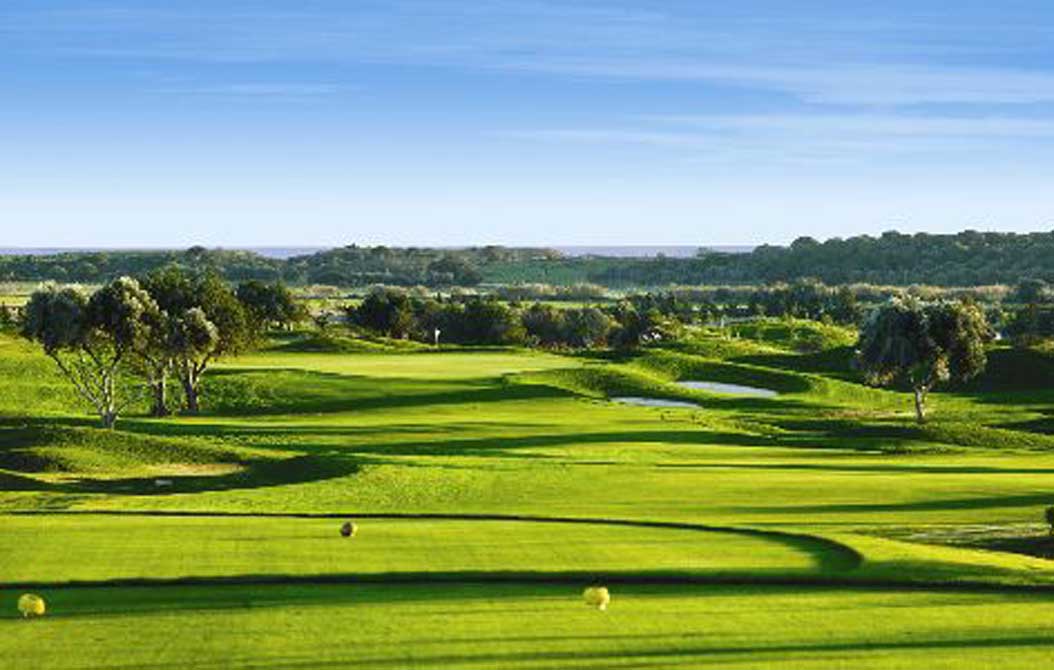 One of Europe's most famous golf destinations, Vilamoura in the central region of Portugal's Algarve offers a high-quality cluster of some of the finest golf courses to be found anywhere!  Therefore Vilamoura golf holidays are very popular and easy to arrange.
With 6 superb golf courses to be found in Vilamoura itself and plenty more in neighbouring districts such as Quinta do Lago and Vale do Lobo, this area is a true golfing hotspot that is enjoyed all year around by both local and visiting golfers.
The Algarve is familiar to many travelling golfers and is unrivalled in Europe as a quality golf travel destination, and the capital of golf in the Algarve is undoubtedly Vilamoura.
The top golf club in Vilamoura is widely considered to be the Dom Pedro Victoria golf course, but many would argue that the Dom Pedro Old Course actually takes this accolade due to its maturity, the peaceful environment in the pine trees and high-class golfing pedigree – but like any opinion about a golf course, this really is in the eye of the beholder and frequently depends on how well they played when they most recently played there!
Vilamoura golf course reviews can help with making a decision if you need assistance with selecting 1 or 2 courses to play, but truthfully the only way to get an accurate insight into golf in Vilamoura is to make time to play all 6 golf courses in quick succession and make your own mind up!  However, hopefully the opinions of the team here at The Golf Travel People will help you make a selection if time constraints or budgets are against you in being able to play all 6!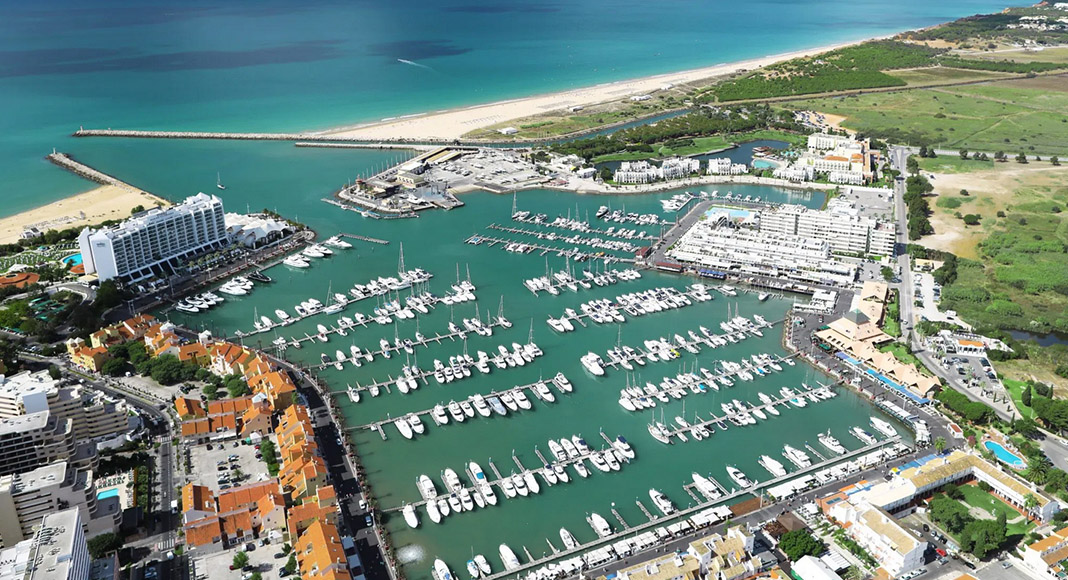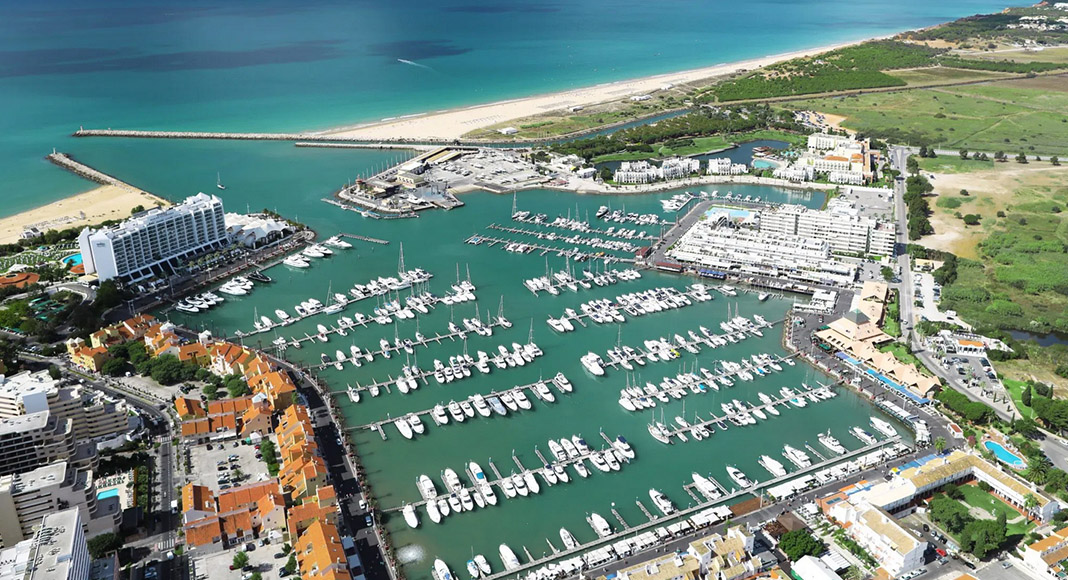 At the time of writing in March 2021, 5 of Vilamoura's golf courses are owned and operated by the Dom Pedro Hotel group – Dom Pedro Pinhal, Dom Pedro Laguna, Dom Pedro Millennium, Dom Pedro Old Course and Dom Pedro Victoria – with Vilamoura's 6th golf course – Vila Sol – being part of the Pestana group of hotels and golf courses.  Both Dom Pedro and Pestana are highly experienced golf course owners with many years of operating golf-centric hospitality in the Algarve, so a visiting player is certain to enjoy the most excellent golfing experience here in Vilamoura.
It's worth noting that all of the golf clubs discussed in this review of the best golf courses in Vilamoura also offer superb practice and tuition facilities, therefore a tune-up of your golf game either before or after a round is always an option here.
So, let us take each of this magical golf course grouping in turn to offer you a review of Vilamoura's golf courses to see what you can expect to find…
Dom Pedro Victoria
Without any doubt, Dom Pedro Vilamoura Victoria is one of the top golf courses in Vilamoura and it is easy to see why when you set foot on the fairways and greens of this modern-style golfing masterpiece. Located just beyond the Vilamoura city limits to the north west of Vilamoura's famous Marina, the Dom Pedro Victoria course occupies a fairly flat tract of land, but its challenge is to be found in its length, the huge undulating putting greens, deep bunkers and the large amount of water that can be found coming into play on many of its holes. Designed by true golfing royalty – Arnold Palmer – Dom Pedro Victoria has rightfully found a regular place on the schedules of many professional golf tours including the flagship European Tour, and it is a venue that many of the world's top pros truly relish due to the excellent scoring opportunities that it offers to elite players.  This was proven during the 2018 Portugal Masters when English golfer Oliver Fisher became the first player in European Tour history to post a sub-60 score with a sparkling 59 that featured 10 birdies and an eagle in a perfect bogey-free round!  It's worth bearing in mind that even with this incredible round, Fisher only finished the tournament tied for 7th place, a full 7 shots behind the eventual winner – also from the UK – Tom Lewis! For mere golfing mortals however, Dom Pedro Victoria offers the opportunity to follow in the footsteps of world-class players like Fisher and Lewis, and even though they won't shoot 59 this golf course here in Vilamoura still offers the chance to score well with some of the finest golfing conditions underfoot whilst enjoying the wonderful environment and atmosphere to be found here in the Algarve.
Dom Pedro Old Course
As good as most players will find Dom Pedro Victoria with its brutal rough, huge greens and long carries over water, many golfers are of the opinion that the Dom Pedro Vilamoura Old Course is actually the best golf course in Vilamoura. Widely viewed as the "grand-dame" of Algarve golf, the Dom Pedro Old Course could not be more different from Dom Pedro Victoria and considering they are only 2.7km from one another, the contrast in the style of these 2 Vilamoura golfing heavyweights could not be more pronounced! Where Dom Pedro Victoria's challenge is as previously described with water, deep rough and bunkers and massive greens, the Frank Pennink designed Dom Pedro Old Course contrasts markedly with a pine-tree-lined routing that rewards accuracy and control rather than brute strength and long-hitting, so could really be considered to be golf in Vilamoura for the purist. The environment of the golf course is a truly wonderful place to enjoy your golf with many holes staying long in the memory as the course navigates elevation changes throughout its routing. The peace and quiet of the pine woods allows for true concentration and focus on your game, resulting in many golfers posting surprisingly good scores here on Vilamoura's second true championship golf course.
Dom Pedro Millennium
As the name suggests, the Dom Pedro Millennium golf course opened back in the year 2000 to great fanfare in the golfing community with its combination of 9 original holes from the neighbouring Dom Pedro Laguna golf course and 9 newly designed and built modern golf holes that together combine to offer the golfer a real "game of two halves"! Again featuring elevation changes, pine trees, large greens and plenty of water – especially on the back 9 – the Dom Pedro Millennium golf course has truly found it's place in the pantheon of Algarve golf courses and is widely considered to be one of the top golf clubs in Vilamoura. If you are looking for a real golfing challenge on a high quality Algarve layout but without the expense and playing difficulty of Dom Pedro Victoria or the Dom Pedro Old Course, then Dom Pedro Millennium really should be the Vilamoura golf course to include in your itinerary. Located literally across the road from Dom Pedro Victoria and sharing a clubhouse and tract of land with Dom Pedro Laguna, the Dom Pedro Millennium golf club offers an amazing golfing experience at a great price here in the Algarve.
Dom Pedro Pinhal
The word "Pinhal" translates simply as "Pine Forest", and this is the only clue you will need to gain an understanding of the golf course here at Dom Pedro Pinhal! One of the 5 magnificent Dom Pedro Vilamoura golf courses, Dom Pedro Pinhal upholds the high standards of quality conditioning and a wonderful routing (in this case through the pine woods) that is synonymous with the Dom Pedro group of Vilamoura golf clubs. For many visiting golfers who prefer a more traditional style golf course layout, Dom Pedro Pinhal can be found at the top of their Vilamoura golf course rankings, as it offers a great golfing experience in the calm and tranquil atmosphere of the pine forest alongside a challenging layout that rewards clean ball striking and straight hitting to avoid the rattle of the golf ball in the verdant green of the tree canopy! Little – if any – water comes into play at Dom Pedro Pinhal, so that is one less thing to worry about, but it is still vital to retain focus and eliminate the distraction of some amazing villas that line some of the fairways if you are to post a good score here…
Dom Pedro Laguna
Once again, the clue is in the name with "laguna" literally translating as "lagoon" or "lake", so unless you have your A-game with you here at Dom Pedro Vilamoura Laguna, be prepared to see any of the golf course's many lakes and ponds swallow at least one of your precious golf balls during your round here! The golf course here at Dom Pedro Laguna is at time of writing (March 2021) undergoing a full refurbishment and when it emerges from this period of works you can expect to see huge improvements to what has previously been considered the 5th of the 5 Dom Pedro Vilamoura golf courses. There was nothing at all wrong with Dom Pedro Laguna previously anyway – it is just that the other Dom Pedro Vilamoura golf courses are so good that one of the 5 has to be considered the lowest ranked – but with a huge investment now taking place in the links-style golf course it is widely expected that the new Dom Pedro Laguna will rise up the ranking of Vilamoura golf courses very quickly once it has reopened.  Why not be the first to offer a review of the new Dom Pedro Laguna golf course and let your fellow golfers know?
Pestana Vila Sol
Sometimes overlooked as being one of Vilamoura's golf courses, Pestana Vila Sol offers a quite unique golf experience just a few kilometres from the bustling heart of the Vilamoura Marina. With 27 tree-lined holes, many in an elevated location overlooking the rest of the Vilamoura resort, Pestana Vila Sol is definitely worth including in your golf itinerary if playing in the area. Pestana Vila Sol is another Vilamoura golf course where hitting the ball straight is absolutely vital due to the tree-lined fairways, so once again it is certainly worth dialling back a little bit of power and trading big-hitting for accuracy if one of these elements can be compromised in your game if you like to go for the big shots! Quite a few of the holes here at Pestana Vila Sol feature incredible pieces of modern art with abstract sculptures to be found beside many of the tee boxes; certainly an unusual golf course feature that defines the experience at Pestana Vila Sol! It is worth noting that Pestana Vila Sol is in fact the only true golf resort in Vilamoura – where the same company own and operate both the golf course and on-site hotel.  The Dom Pedro Victoria golf course does have an on-site hotel operated by the Minor Hotel group – so not quite a true Vilamoura golf resort – unlike Pestana Vila Sol.
So, those are the views of The Golf Travel People about the best golf courses in Vilamoura.  There is only 1 way to find out if we are right and if you agree with us and that's to find out for yourself by getting out on Vilamoura's fairways and seeing for yourself!
Frequently Asked Questions about the Best Golf Courses in Vilamoura
Where can I golf in Vilamoura?
There are 6 golf courses located in Vilamoura itself, with plenty more golf courses very nearby just outside Vilamoura.  The 6 Vilamoura golf courses are as follows:
How many golf courses are there in the Algarve?
Few places in Europe can boast as many golf courses as the Algarve in Portugal!  With 35 magnificent golf courses dotted along the Atlantic coast all the way from Santo Antonio Golf Club in the western Algarve thru the central Vilamoura/Quinta do Lago/Vale do Lobo golfing region to Castro Marim Golf & Country Club in the eastern Algarve this superb golfing destination has something for every golfer!
How much is a round of golf in Vilamoura?
Golf in Vilamoura is priced depending on whether you play one of the premium courses such as Dom Pedro Vilamoura Old golf course or Dom Pedro Vilamoura Victoria golf course or opt for one of the less expensive – but still great quality courses – such as Laguna, Pinhal, Millennium or Vila Sol…
Additionally, special offers for golf in Vilamoura are available all year round with particular discounts available in the Christmas, Easter and Summer seasons featuring great discounts on multi-round deals on all Vilamoura golf courses.