Intro to Fuerteventura, Canary Islands, Spain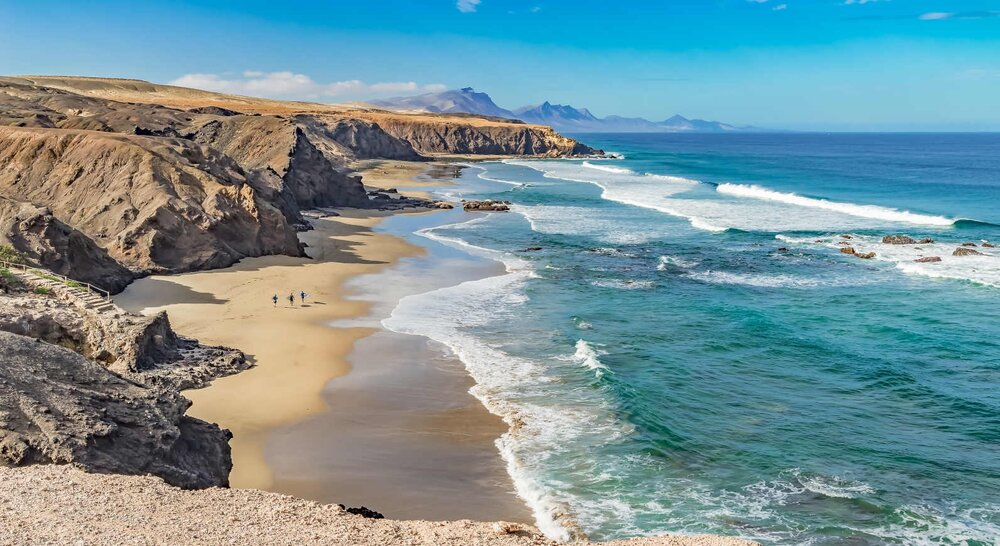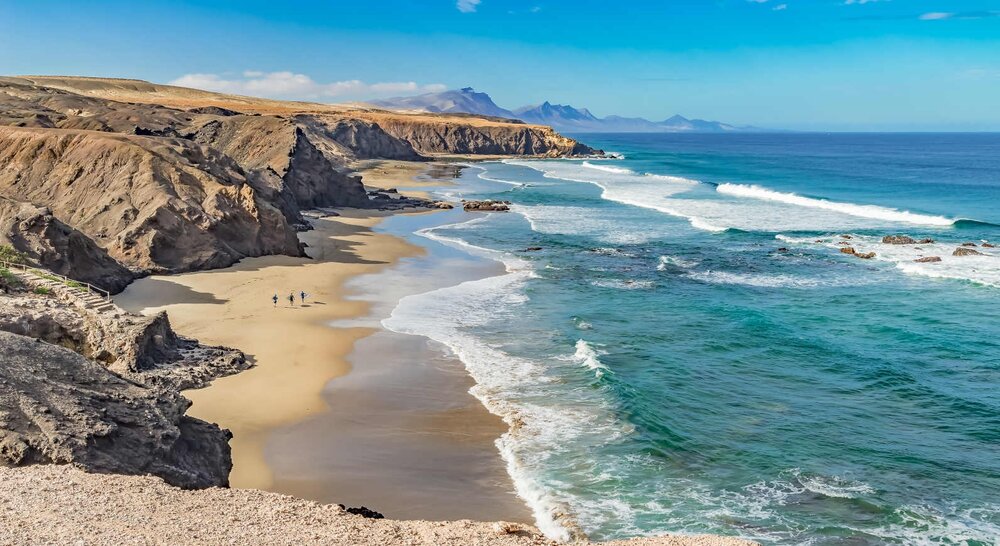 Welcome to Fuerteventura!
The oldest of the Canary Islands, Fuerteventura was created more than 23 million years ago.
An everlasting spring: ALL YEAR-ROUND DESTINATION!
More than 3000 hours of sunlight a year
Average year temperature of 23º and sea temperature of 20º
Clear skies and low rainfall. A day in the Canary Islands sunshine is like a natural vitamin D pill that prevents illness and makes you feel good.
Over 150km of golden sand beaches and turquoise waters!
World Biosphere Reserve and Starlight Reserve by UNESCO
Holidays with golf!
Golf courses with surprising landscapes in the most  exclusive resorts. Unique layouts dashed with local plant life, palm trees and lakes, natural gullies and rounds by the sea… The diversity of the courses, the warm weather and privileged surroundings make it a unique experience to enjoy all year round.
Location Map of Fuerteventura, Canary Islands, Spain
When to Travel to Fuerteventura, Canary Islands, Spain
More than 3,000 hours of sunshine and constant temperatures throughout the year make Fuerteventura's weather an enviable pleasure. Its proximity to the Sahara desert, the sea that surrounds it and the Canary Island current, result in very mild temperatures, and the absence of very high mountains dissipate all clouds and rainfall from the landscape.
Average Temperatures in Fuerteventura, Canary Islands, Spain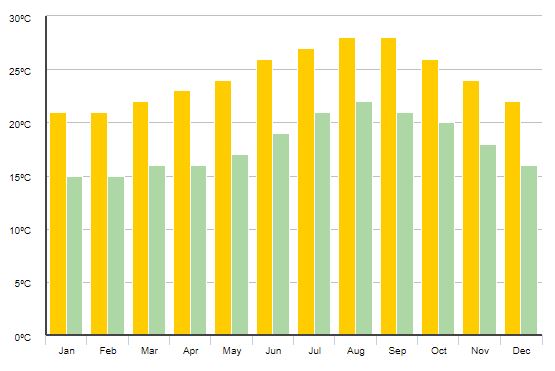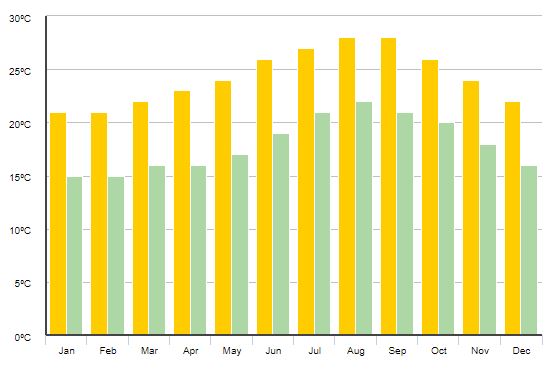 Average Temperature Ranges in Fuerteventura, Canary Islands, Spain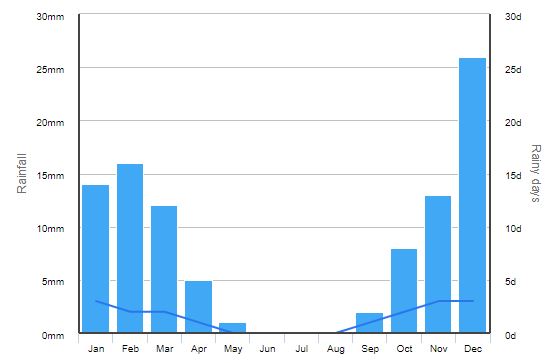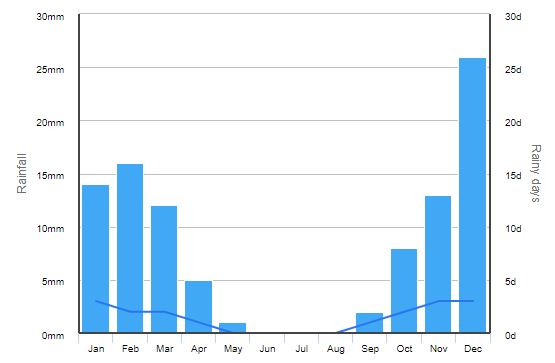 Average Rainfall in Fuerteventura, Canary Islands, Spain
Average Daily Sunshine Hours in Fuerteventura, Canary Islands, Spain
Top Tip from Dan at The Golf Travel People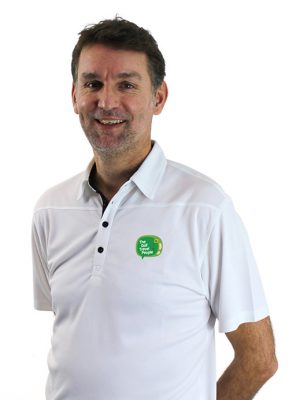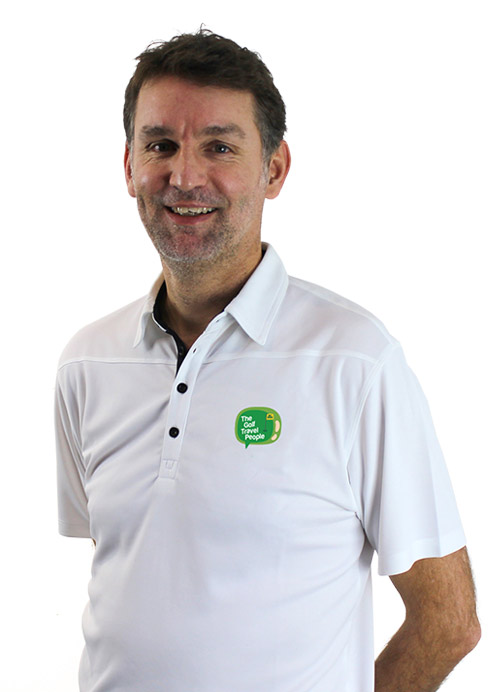 "A visit to Fuerteventura to play golf is a great choice and it is possible to easily play all 4 of the golf courses on the island during a short break here.
In my view, the best place to be located for a golf holiday on Fuerteventura is in the Caleta de Fuste area just south of the airport as 2 of the islands golf courses are located right here with the other 2 courses both within an hour's drive further to the south.
This resort area features a number of really decent 4 and 5 star hotels either located on the beach or in the case of the Elba Palace Hotel – right on one of the golf courses.
But if you do prefer to be further south, my recommendation is to stay at either the Playitas Sports Resort or one of the large 4 and 5 star resort hotels in the Jandia area – which offers visitors the most wonderful beach."
Getting to Fuerteventura, Canary Islands, Spain

Fuerteventura has a small but busy international airport (FUE) located just south of the island's capital city of Puerto del Rosario and this is well served by direct flights with the usual range of budget and premium airlines from airports across Europe.
Having arrived at Fuerteventura Airport, the compact size of the facility means that all the necessary services for your onward transportation to your hotel or other accommodation on the island is easily accessible with transfers, shuttle buses and car rental desks and collection points either inside the terminal building or right outside the front door.
The island is also well served by direct ferries to and from the other Canary Islands and also mainland Spain and Morocco, so it is possible not to have to fly to Fuerteventura although most clients will definitely arrive initially by plane.
Check out the best flight options to Fuerteventura here.
Top Tip from Andrew at The Golf Travel People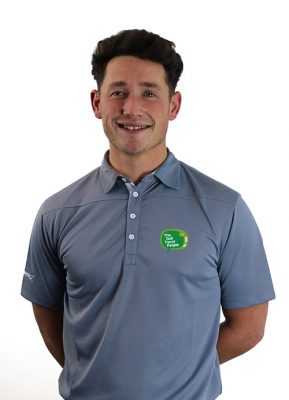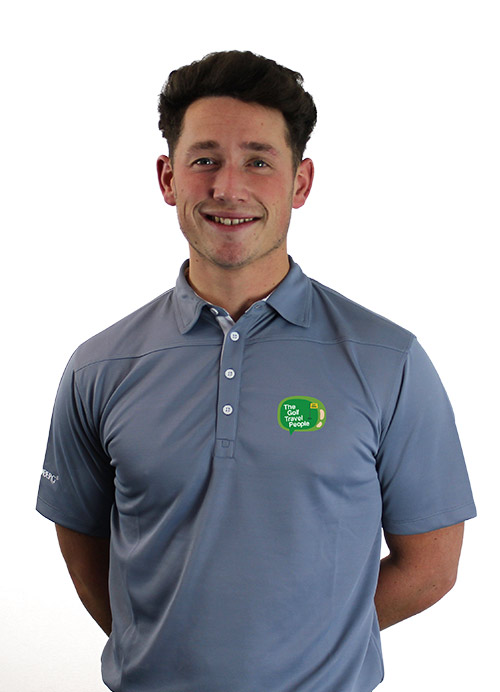 "My favourite thing to do when in this area of the Canary Islands is to combine my time between Fuerteventura and Lanzarote.
The ferry crossing between the islands is less than an hour and it's a most enjoyable trip across from Corallejo to Playa Blanca on either the Fred Olsen or Naviera Armas shipping lines.
Sitting up on the top deck of the ferry in the sun with a cold beer in hand really is the way to travel and there is a good chance of spotting dolphins or whales from here too!
Combining a stay on both islands to complete your Canary Islands golf break is a really great option and opens up the possibility of playing 6 different golf courses."
Our partners recommend...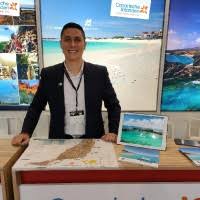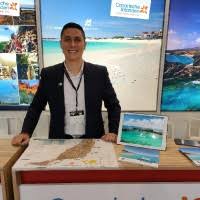 Our friend Omar Reyes Castro (right), Fuerteventura Representative for UK, Ireland & The Netherlands at the Spanish Tourist Office in London has kindly provided some information about 3 of his favourite places on Fuerteventura to visit:
"Visiting Fuerteventura to play golf is recommended at any time of the year due to the year round wonderful temperatures.
From the Natural Parks to endless spits of white sand and turquoise waters to wander along, Fuerteventura's most precious element is its natural wild environment, thus it was entirely designated World Biosphere Reserve and Starlight Reserve by UNESCO.
Such beautiful unspoiled bays where you can sunbathe, surrounded by natural volcanic landscapes, practical beaches for the family with all kinds of services so you can enjoy yourself completely at ease.
Here below the TOP 3 "must-see" places to visit:
Islet of Lobos Natural Park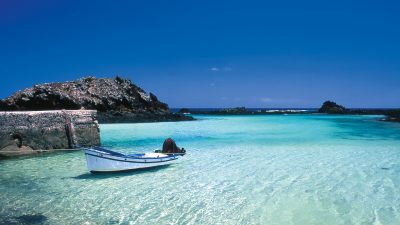 Taking its name from the sea lions and seals which lived along its coast until recently, it's just a 4.5 square km island with not a single road. Just 15 minutes by boat from Corralejo Natural Dunes Park, a day trip here is a guarantee of tranquility, crystal-clear waters and incredibly beautiful volcanic landscapes. Make sure you apply for the free online permission ticket to visit it!
Ajuy Natural Monument
Located on the west coast, just 35 min by car from Betancuria (the most historic and iconic village of the island), this natural monument is formed by the Basal Complex, which is the oldest rock formation in the Canaries! You'll also find amazing caves, which you can reach from a walking path that starts on the breath-taking black sand volcanic beach. Try the fresh fish, wrinkly potatoes and the local Majorero Designation of Origin cheeses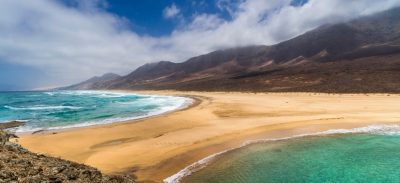 Cofete beach
The wildest and largest of The Canaries: a massive 12km virgin beach located on the windward coast (south-west), where the highest peak of the island (Pico de La Zarza, 817m) is located. Another attraction of Cofete is an enigmatic villa situated above the village, the Winter's house, to which are attached extravagant Nazis submarines legends. Be careful here, the strong currents make Cofete, a dangerous place to swim but it's still worthwhile to visit this gem.
Fuerteventura, Canary Islands, Spain Golf Clubs & Golf Courses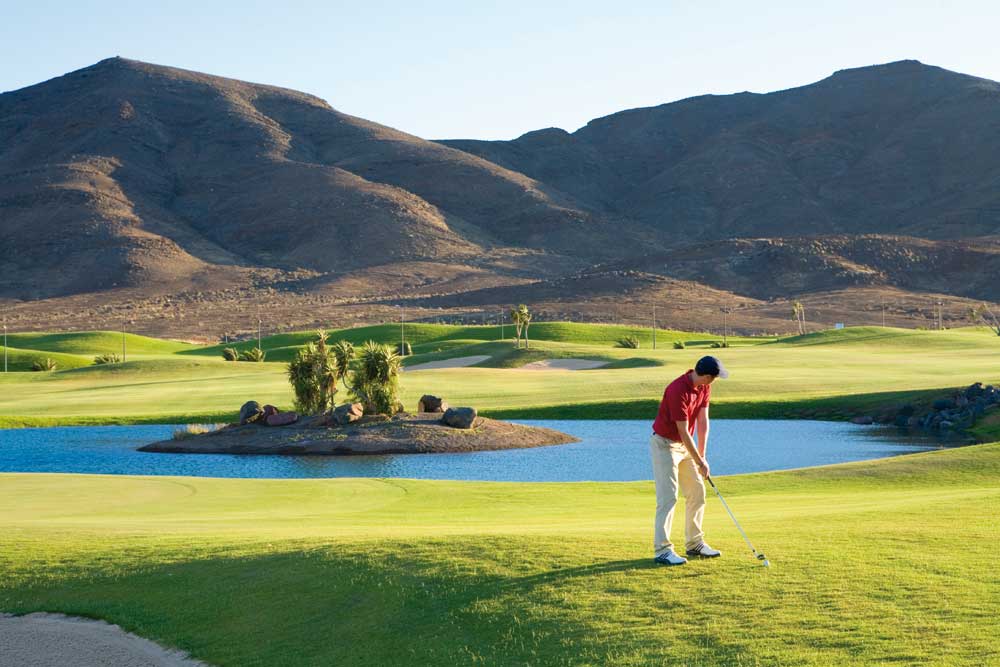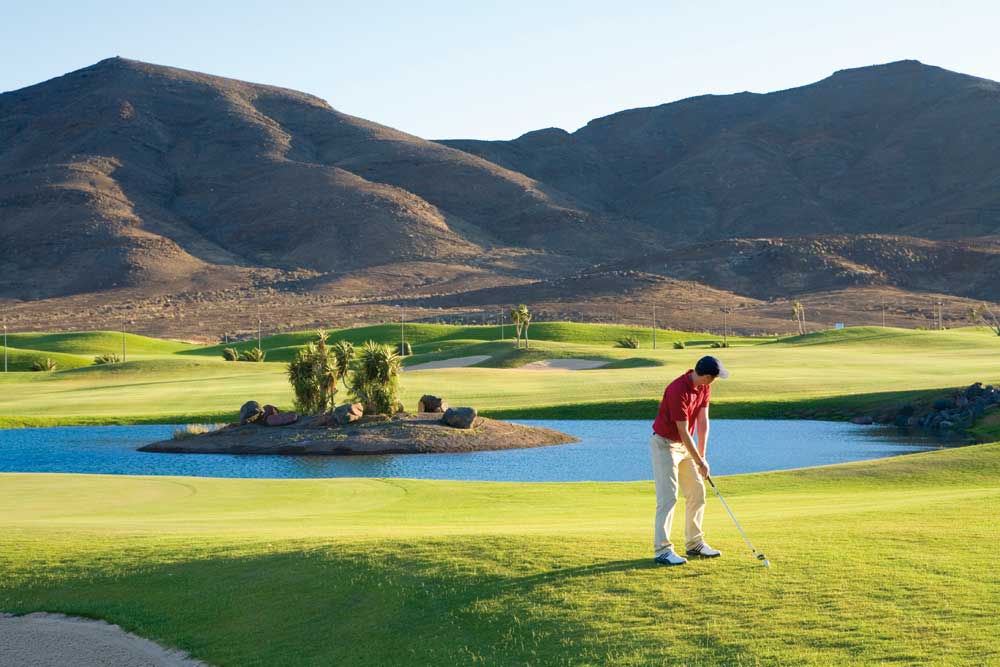 With four 18-hole golf courses, Fuerteventura is a good choice for a golf break.  However, as mentioned elsewhere, in our view you are really looking at a "holiday with golf" rather than a true golf holiday.  But that's not to say that travel to Fuerteventura for golf is not recommended – as it really is!
All 4 of the island's golf courses are products of the golf course building boom in the late 1990's and the first decade of the 21st century, so they are all fairly modern designs with the majority of their shaping being done by machine rather than naturally as is found at older golf courses around the world.
But, this has resulted in challenging layouts that really have to be given due consideration if you are to post a good score.  In fact, a round of golf at Playitas Golf Club – which is "only" a par 67 golf course – is actually a real challenge as players really have to give their full attention to where they plan on landing the golf ball!
Fuerteventura Golf Club and Salinas de Antigua Golf Club are located almost next to each other close to Caleta da Fuste and so share the same kind of look and feel.
Playitas Golf is to be found on the central east coast of Fuerteventura, with the final Fuerteventura golf course at Jandia Golf to be found in the far south of the island occupying a volcanic ravine running inland and uphill from the coast.
So, check out the details of Fuerteventura's golf courses and be sure to get in touch with The Golf Travel People very soon to discuss your next golf holiday in Fuerteventura!
Top Tip from Jonathan at The Golf Travel People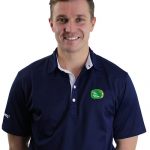 "Simply because of my love of hitting my driver, I tend to prefer courses that allow this on as many holes as possible.  I know that's not the purest form of golf and some purists dislike this, but it's just what I enjoy!
As such I tend to not enjoy more "fiddly" courses as much as those which allow me to take the big stick as often as possible, so here on Fuerteventura my preferred golf courses to play are the 2 that are next door to one another in the central area of the island – Fuerteventura Golf Club and Salinas de Antigua Golf Club.  Both offer great opportunities to get the ball into play as long as possible off the tee and allow great scoring opportunities throughout the round.
That's not to say that there aren't good driving holes at Jandia or Playitas… it's just that these 2 courses offer fewer opportunities to hit my driver…"
Fuerteventura, Canary Islands, Spain Golf Resorts & Golf Hotels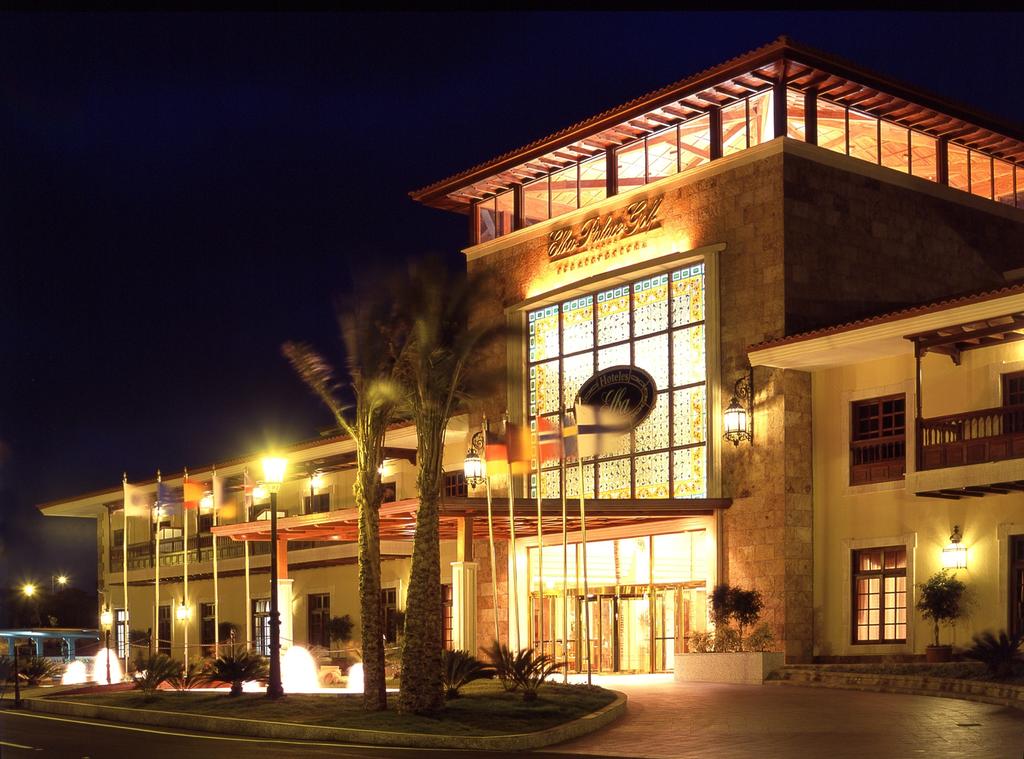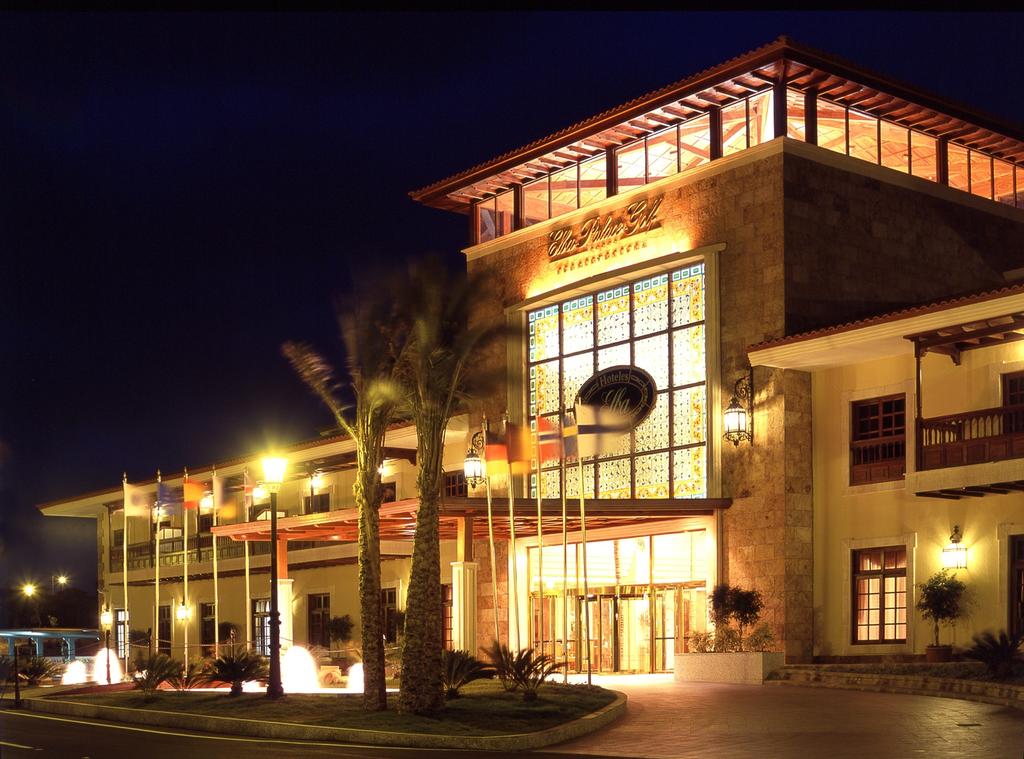 The range of hotels available to visitors to the smaller Canarian island of Fuerteventura is as extensive as any of the larger Canary Islands such as Tenerife and Gran Canaria.  This is due to the fact that the travel industry has really taken root here in Fuerteventura and the development of the golf travel sector has taken great advantage of the pre-existing general travel industry and hotel and resort products that were already well established in Fuerteventura when golf began it's development here in the late 1990's.
Most well-known Spanish and international hotel groups are represented somewhere in Fuerteventura with well known international brands such as Barcelo, Riu, Sheraton, Elba and many more offering excellent hotel accommodation in all the popular touristic areas of the island.
For visiting golfers this means that although there are only 2 "true" golf resorts at Playitas and the Elba Palace, there is a massive choice of further accommodation options to select the most suitable type, style and quality of hotel or apartment to suit your preferences.
With rural and rustic hotels, beach hotels and resorts, spacious apartments and villas and much, much more… Fuerteventura will be a golf holiday destination that is certain to have plenty to fulfil your requirements!
Even if the hotel or apartments you prefer aren't part of the list of our partner resorts and hotels on the island, we can definitely still assist with your accommodation requirements through our network of bed-banks and other direct partners on Fuerteventura, so do not hesitate to let us know your specific requirements and leave The Golf Travel People to do the rest… we look forward to hearing from you!
Frequently Asked Questions about Fuerteventura, Canary Islands, Spain