Overview
Real Club de Golf El Prat – Barcelona is regarded as one of the finest golf clubs in Spain, having hosted more than 250 top-level national and international championships, including the Spanish Open on 10 occasions.
The world-renowned course, recently named as one of the 125 Platinum Clubs of the World – Five-star Private Club – is just 35 minutes from Barcelona's city centre. With its roots dating back to 1912, it is one of the few clubs to have been granted "Real" or Royal status by King Alfonso XIII after his visit.
Real Club de Golf El Prat – Barcelona has played host to some of the biggest names in the game with top stars such as Spanish legends Severiano Ballesteros, José Maria Olazábal and Sergio Garcia, eight-time Major winner Tom Watson, and Tommy Fleetwood having featured there in various tournaments, while Masters champion Garcia and European Tour star Pablo Larrazábal are both members.
The Club boasts 45 holes designed by the legendary Greg Norman, played over an exciting mix of three highly acclaimed course configurations – Pink, Yellow and Green – as well as being home to a modern and lively clubhouse and top-quality practice facilities, as well as a 300m driving range and a host of specialist short-game areas.
Greg Norman said "Playing at El Prat is a true pleasure. Each of its courses is an unforgettable experience. Each stroke conveys unique sensations that make you feel proud to have learned to play golf. You understand why there are golf courses that make the sport great. Without a doubt, El Prat is one of these."
What our customers say
There are no reviews yet. Be the first one to write one.
0 out of 5 stars (based on 0 reviews)
Tell us about your experience
Real Club de Golf El Prat makes available for members and visitors an extensive area, professionally set up for practice and improving your swing.  The practice area has the following facilities:
Driving range more than 300 metres long and with capacity for 50 people.
Approach area with bunkers.
Two large putting greens.
Three short practice holes.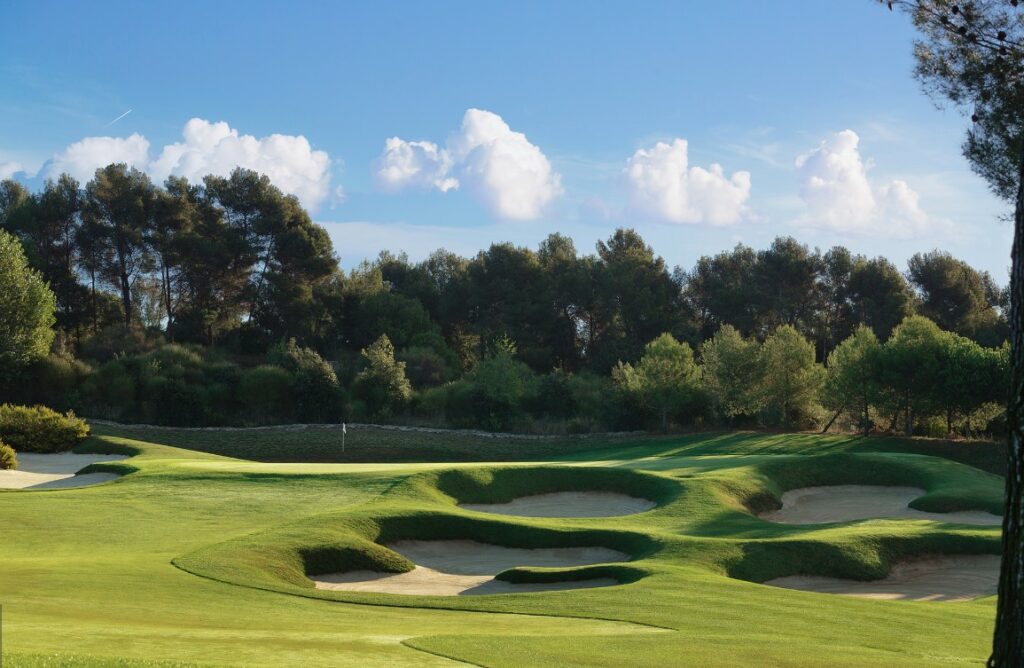 The Pink course is one of the most enjoyable layouts – and course designer Greg Norman's favourite.
It starts with a narrow and very technical first nine holes and a demanding second nine where recovery shots play a key role in ensuring a good score.
The long par-three 6th and the always-fearsome 17th are the most outstanding holes on this course.
The daunting par-three 6th leaves few players unscathed. The high, volcano-shaped green bounces any shot that is not spot-on to the surrounding waste bunker. This hole, one of the course's most memorable, will leave lasting memories.
The 17th is a tough uphill par four where the tee shot is once again key to posting a good score. The bunker on the right of the drive's descent is one of the most frequented areas of the course as players are forced to avoid the hazard running along the entire left side of the hole. The semi-blind green approach requires a high, well-directed flight to avoid the bunkers at the front and rear of the green, leaving a long putt on its fast surface.
Perhaps one of the course's most complicated holes is the 8th, which is again surrounded by trees on both sides. It takes a long, well-centred tee shot to minimise the distance of the approach shot to a small green well defended by three bunkers and the surrounding pines.
Par: 72
Max Length (Men): 6465m
Max Length (Ladies): 5035m
Slope (Men): 144
Slope (Ladies): 132
Designer: Greg Norman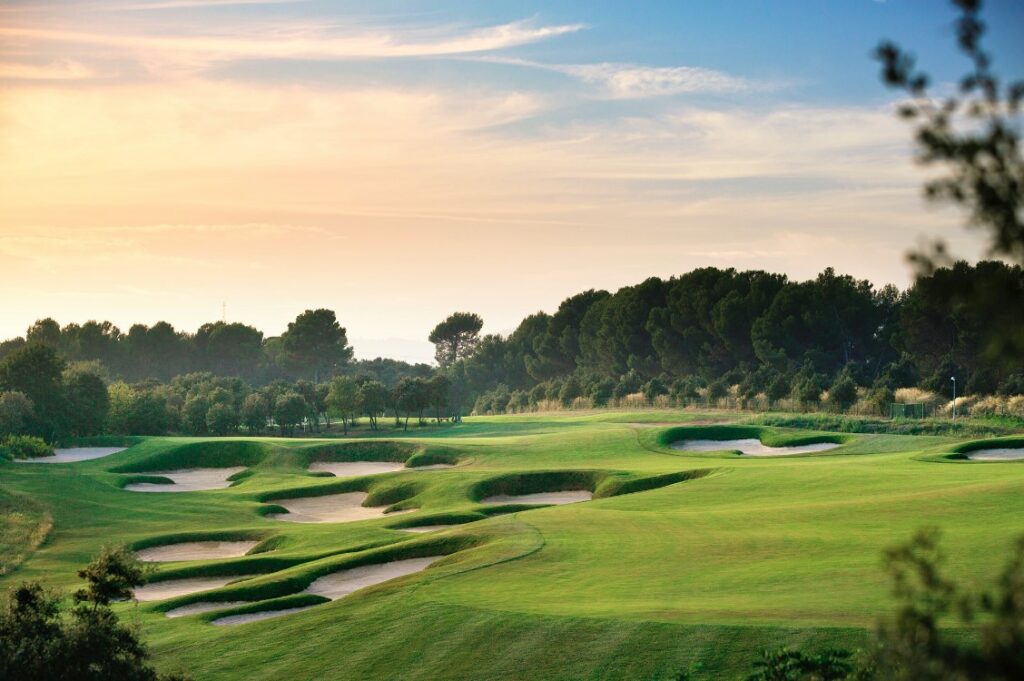 The front nine from the Yellow course is easier than the second, so you need to use that to your advantage before facing the nine longer and more demanding closing holes.
It is an open course and therefore requires you to control the effect of the wind that can cause plenty of problems on blustery days.
The eighth, 16th and 18th holes will have a big to say on how you score.
The 498-metre par five stroke 16th calls for some careful thought and avoiding the bunker on the left side with your tee shot is a must. The second shot ideally needs to leave you 50-60 yards from the green to attack it from above. Even from here there is plenty of trouble with bunkers front and back and a green that slopes menacingly back to front.
The 18th is a fantastic 426-metre par four finishing hole and one of the hardest on the course. This long, uphill hole demands a strong drive that should hug the right side of the fairway, leaving a long iron approach to a long green that is guarded by a bunker on the right and a hollow to the left.
Par: 72
Max Length (Men): 6673m
Max Length (Ladies): 5131m
Slope (Men): 142
Slope (Ladies): 128
Designer: Greg Norman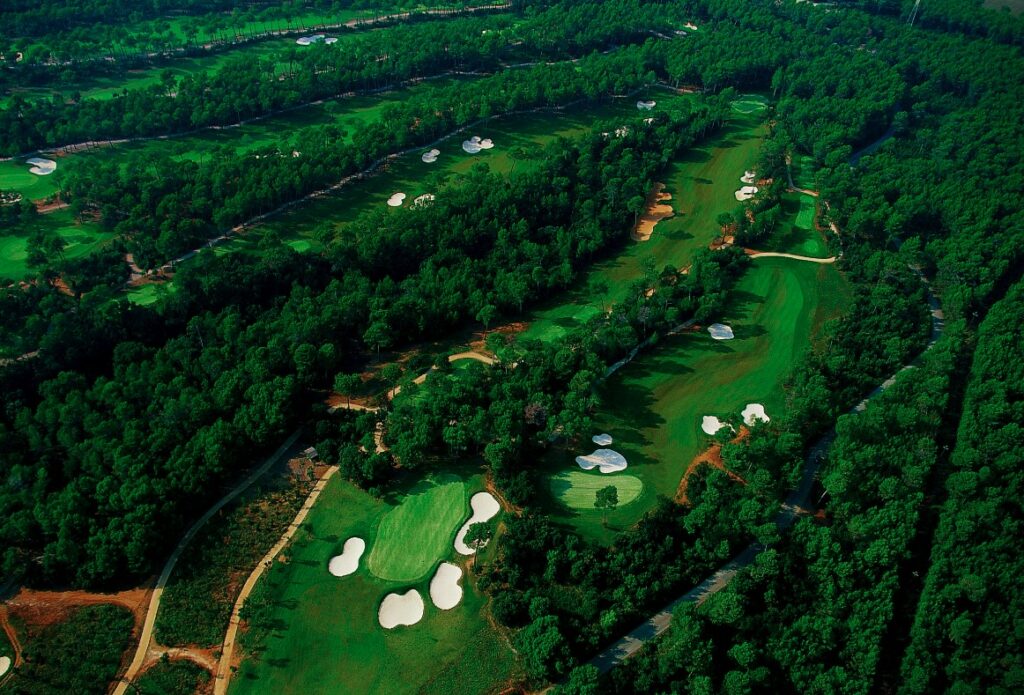 The Green course is composed of holes one to five of "Abajo", the nine of Vallés Golf plus six to nine of "Abajo".
The club's only par-71, it includes nine longer and more challenging holes and another nine that are easier and more strategic.
The Green Course stands out for its short par-threes and very diverse par-fours, where all the clubs in the bag will come into play. It is important to make a good start, so you have a margin for error when facing the 16th and 18th.
The first of the par threes is Abajo's magnificent 188-metre third hole that gently slopes downhill. It requires a long iron in order to reach the huge green that is protected by bunkers to the left of a cluster of trees. But there is still plenty to do on this incredibly tricky green, so make sure your putt goes very close to the pin to avoid posting a card-busting score.
Par: 71
Max Length (Men): 6210m
Max Length (Ladies): 4733m
Slope (Men): 138
Slope (Ladies): 126
Designer: Greg Norman
Skyscanner Flight Booking Service
Click the image below to start searching SkyScanner for low-cost flights for your golf holiday from your local airport.
To save money on your golf holiday, The Golf Travel People recommend using our partners at Skyscanner to book your flights to your golf break destination. Please use the bespoke flight search engine to book the best priced flights to your preferred golf travel gateway airport.
Use Faro Airport in Portugal for the Algarve and also the Huelva region of the Costa de la Luz
Use Jerez/Seville/Gibraltar/Malaga airports for the Cadiz/Jerez region of the Costa de la Luz
Use Alicante/Murcia/Almeria airports for the entire south eastern region of Spain
Use Girona or Barcelona airports for the north east of Spain including the Costa Brava
Use Antalya Airport in Turkey for golf holidays in Belek, Turkey
Use Las Palmas Airport for golf holidays in Gran Canaria
Use Tenerife South Airport for golf holidays in Tenerife, unless you can source any flights to Tenerife North for Melia Hacienda del Conde and other resorts in the north of the island.
Use Tenerife South Airport for golf holidays in la Gomera and use the excellent Fred Olsen ferry service from Los Cristianos to San Sebastian port in La Gomera
Deals
9, 18 & unlimited golf options available at excellent rates – contact us for a full quotation.
Extra reductions available on green fees when a minimum of 3 rounds are booked!
Stay & Play Packages always available here in combination with the on-site 4 star la Mola Hotel
Highlights
Real Club de Golf el Prat, Barcelona - Pink/Yellow/Green Courses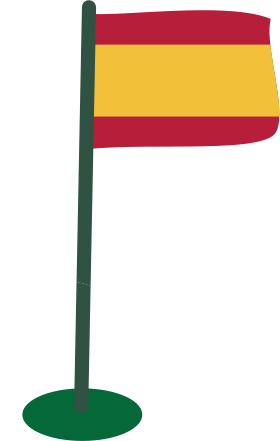 3 top quality championship courses
Combinable to offer different golf every day
4 star hotel on-site
Highly recommended