Top 5 VIP tailor-made golf holidays in the world
Published on 1st March 2021 by
Dan Thomson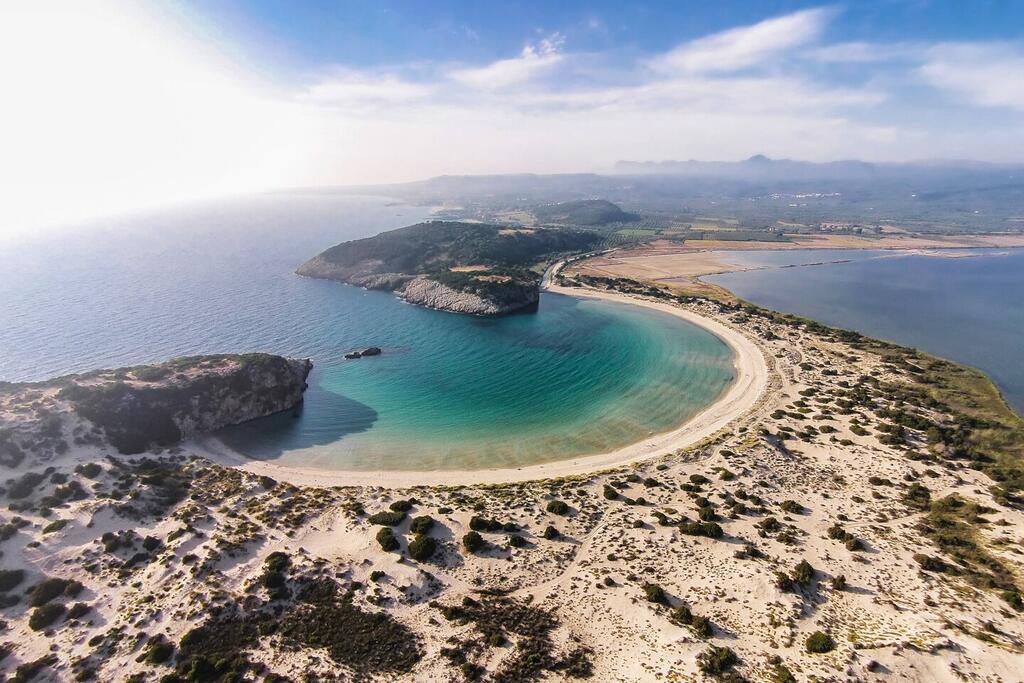 A perfect VIP golf getaway would be a stay at The Westin Resort in Costa Navarino in sunny Greece. This is an exceptional resort with two world-class championship golf courses as well as an academy where players of all ages and ability can practice. There is a professional shop on the resort, meaning you can pick up a new gear or anything you may have left at home. However, it is not only the courses that make the Westin a luxurious experience. There is a wide range of outstanding accommodation, from deluxe rooms for one or the whole family, to suites with incredible views of the ocean. The hotel also boasts an array of bars and restaurants, meaning after your day on the course you can relax and enjoy a variety of food, drink, and entertainment.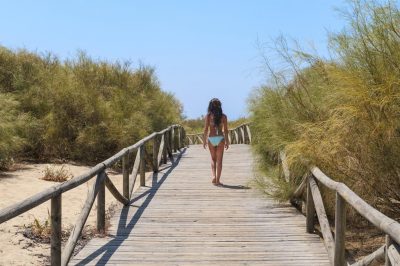 If you are looking to spend your holiday playing golf in a picturesque setting with a selection of fine dining establishments and a spa to unwind in, then look no further than the El Rompido Hotel in Costa de la Luz. This is a fully equipped golf resort with two 18-hole championship courses and full world-class spa on site.
The resort caters to several groups, whether it be couples going away, families having a break or friends looking to catch up and play some competitive sports. Aside from golf, there are also tennis courts and football pitches as well as swimming pools. Throw in view of the natural beauty of the region and you will be more than happy with your stay.

A great option for a golf holiday is a trip to historic and beautiful Cadiz. The region is steeped in history and bursting with culture so when you are not enjoying the resort you have plenty of options to keep you entertained. However, the primary reason to visit the region should be the Fairplay Golf and Spa Resort. Set in the small town of Benalup, the resort offers luxury for golf enthusiasts. As a guest, you have access to pre-reserved tee times on the world-class course, which is maintained to ensure it is in great condition no matter the season.
Additionally, there are huge rooms available to cater to any size of the party, with many having stunning balconies with views of the ancient towns of Vejer de la Frontera. The hotel also had a range of restaurants onsite, meaning if you would prefer to relax after a day on the links, you can have some wonderful food within the comfort of the resort.

Malaga is a popular tourist spot for many travellers with its white beaches, sunny weather, and vibrant culture, however, it is also home to the 5* Gran Hotel Elba Estepona & Thalasso Spa. This wonderful hotel combines the grandeur and warmth of a world-class venue with 35 fantastic golf courses in the surrounding area. This means every day you can experience a new course in this breath-taking part of South-West Spain.
There are four wonderful restaurants in the hotel as well as a selection of bars, meaning you can kick back and relax after conquering the greens. Alternatively, you can book an all-inclusive stay so that you do not need to worry about your spending whilst on holiday.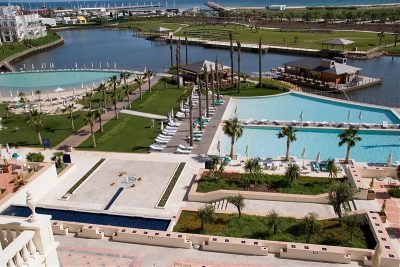 The Algarve is often a pilgrimage for golf lovers, and there is a good reason for this. The region combines sun, sea, and hugely enjoyable golf resorts. The Lake Spa Resort allows you to explore all these courses whilst residing in comfort. The hotel has 192 rooms with 9 suites if you fancy being a little more extravagant or you are travelling with a party. Additionally, they are excellent apartments in the resort if you would prefer to be self-catered and have some independence whilst staying.
The resort has a relaxing spa, private balconies, three outdoor pools, three restaurants and three bars. The peaceful setting also means you can settle down after a busy day and get lost in a book or socialise in an awe-inspiring setting.