Intro to Lanzarote, Canary Islands, Spain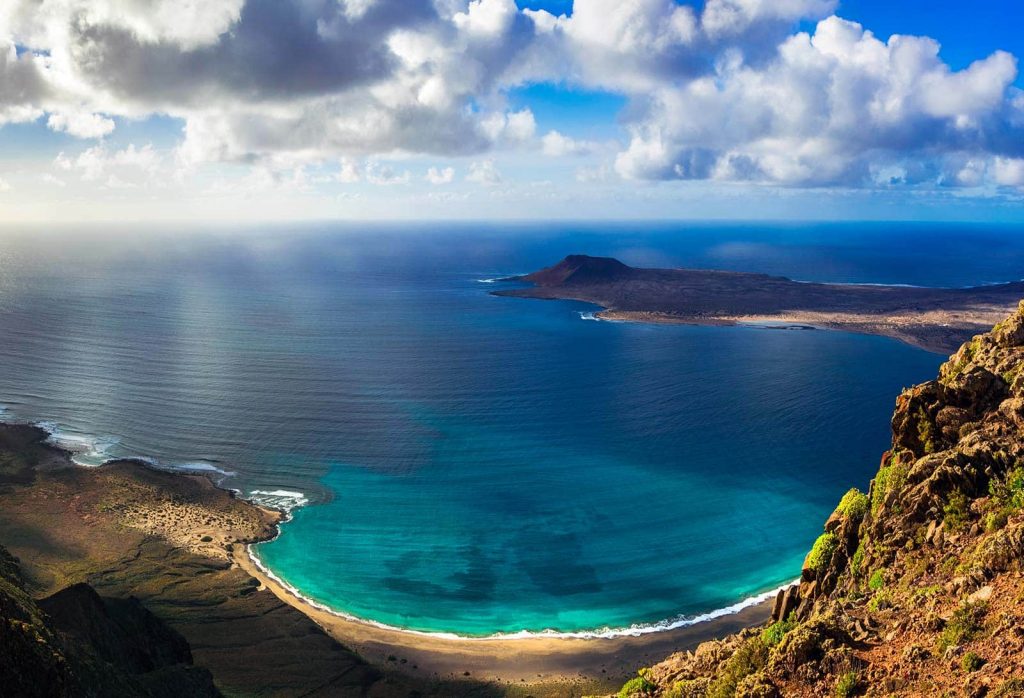 Just like the neighbouring Canarian island of Fuerteventura, Lanzarote is already a very well known and popular destination for a holiday, but that the islands are a good destination for a short golf break is not as commonly known and appreciated.
The island has a well developed tourism offering featuring countless activities, excellent hotels and other accommodation types and plenty of sightseeing options taking in the island's somewhat violent volcanic history, it's natural beauty, a fascinating artistic culture and it's varied and delicious gastronomic and viticulture scenes too.
One of the main selling points for Lanzarote is that since 1993 it has been a Unesco Biosphere Reserve, so conservation and appreciation of the natural world are always a key priority for everyone involved in tourism on the island.
Added to this are the many opportunities to relax on a beach holiday as the island of Lanzarote and it's smaller neighbour of La Graciosa both offer perfect white sand beaches with a real Caribbean look and feel to them.
However, it is the possibility to combine your holiday in Lanzarote with a few rounds of golf that makes it an even more attractive prospect than it already was…
Location Map of Lanzarote, Canary Islands, Spain
When to Travel to Lanzarote, Canary Islands, Spain
Like all the other Canary Islands, the island of Lanzarote has a very mild and pleasant climate all year around with average temperatures between 17 and 25 degrees Celsius at all times of the year.
With low rainfall and long unbroken spells of warm sunshine all year around, Lanzarote has an ideal climate for a range of activities – including golf – at any time of your choosing… although the winter months tend to be the most popular months for travel for obvious reasons!
Average Temperatures in Lanzarote, Canary Islands, Spain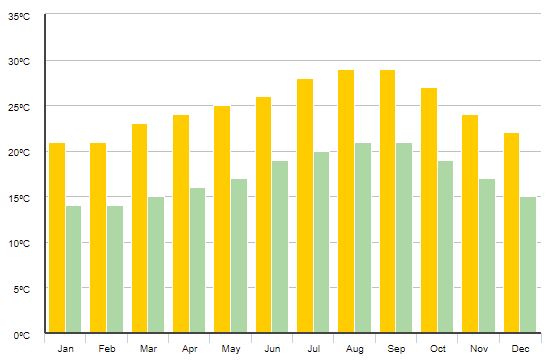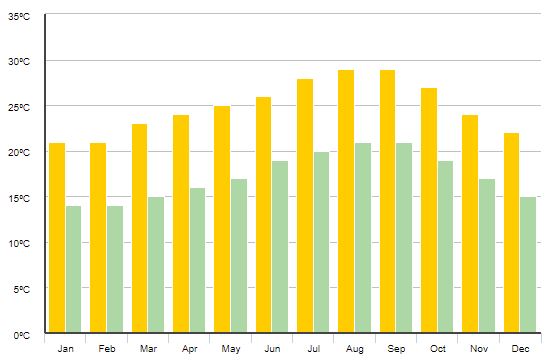 Average Temperature Ranges in Lanzarote, Canary Islands, Spain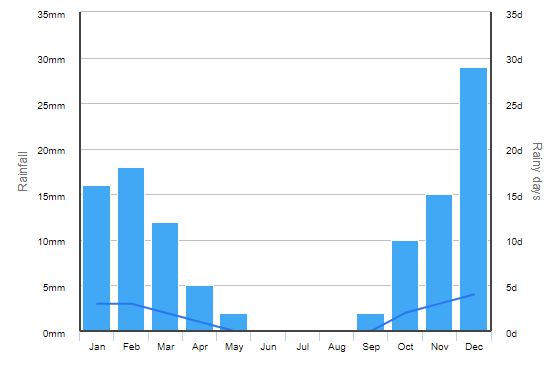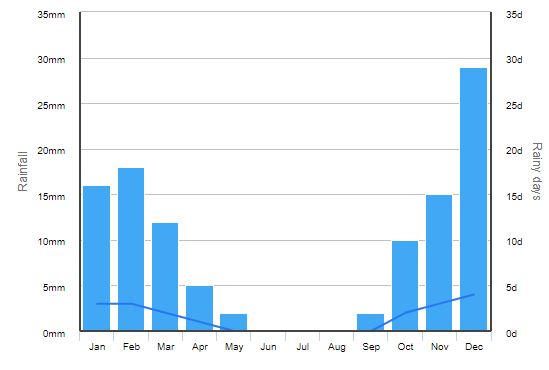 Average Rainfall in Lanzarote, Canary Islands, Spain
Average Daily Sunshine Hours in Lanzarote, Canary Islands, Spain
Top Tip from Dan at The Golf Travel People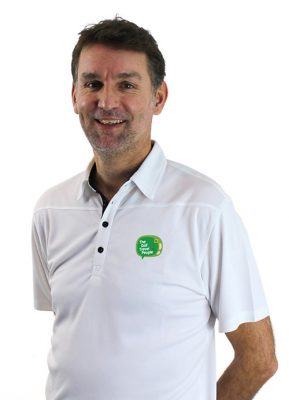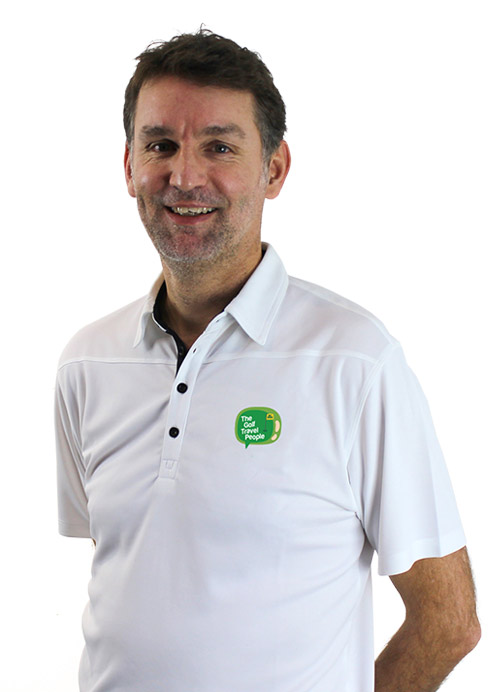 "Just like all the other Canary Islands that we sell, Lanzarote's peak season for golf is through the winter months when the summer temperatures have eased and the golf courses have softened a touch with a little welcome precipitation to keep them green.
However, travelling to Lanzarote at any time of the year is a great choice as no matter when you choose to go you are sure to experience great weather and perfect conditions for any of the many outdoor activities that are on offer here.
So, whether it is just sitting quietly by the pool or on the beach with a good book and a cold beer, enjoying the experience of sea swimming, or partaking in any of the more active thrill-seeking activities available, visitors to Lanzarote are sure to enjoy almost perfect conditions all year around."
Getting to Lanzarote, Canary Islands, Spain

Lanzarote is well connected to much of mainland Europe by regular flights in and out of the main airport on the island ACE.  Located close to the island's capital city of Arrecife, the international airport has a very convenient location with easy access to the main holiday resort areas on the island including Puerto del Carmen and Costa Teguise.
The island is also well served by direct ferries to and from the other Canary Islands and also mainland Spain and Morocco, so it is possible not to have to fly to Lanzarote although most clients will definitely arrive initially by plane.
Check out the best flight options to Lanzarote here.
Top Tip from Andrew at The Golf Travel People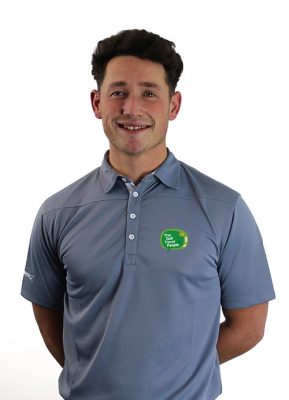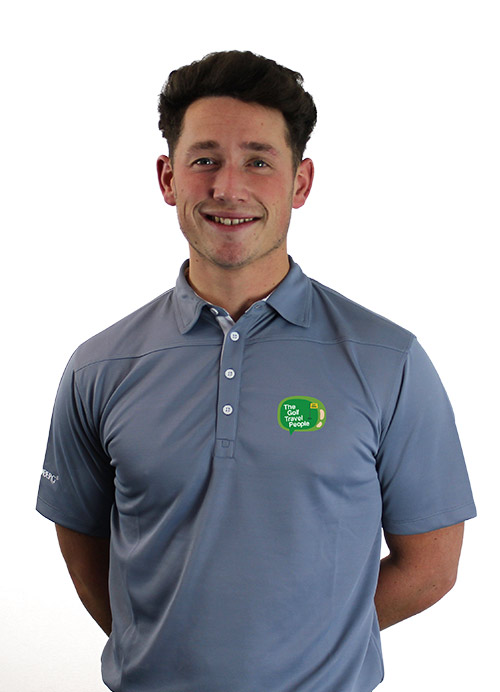 "In some places I have been fortunate to visit I've sometimes felt that having a rental car is a bit of a waste really as everything I've wanted to see has been right on my doorstep or there have been easy transfer options available to take me to the golf course for example.
However – although transfers are readily available here on Lanzarote if you don't want to self-drive – I definitely recommend that visitors rent a car for the duration of their stay.
There's so much to see and do from one end of the island to the other that having your own transportation does offer you that extra flexibility and freedom to discover the island at your own pace – including the option of a visit (on foot or by bike) to La Graciosa.
The road system on Lanzarote is easy to navigate, so getting lost is difficult (he said with his fingers firmly crossed!), and the freedom to go anywhere allows you to really discover the true Lanzarote and what she has to offer!"
Our partners recommend...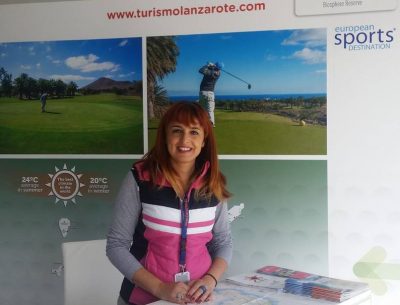 Our friend Olga from the Lanzarote Tourist Board has been very kind in providing us with her personal insights to the best that the island has to offer:
"My name is Olga Fernández and I am on behalf of the golf destination promotion at the Lanzarote Tourist Board.
I have been working in the golf industry since 2006 and I believe that Lanzarote is a really special place in the world. "You will be transported to another universe, you will go to places usually reserved for dreams". The essence of the island leaves a mark on your soul long after you depart. That's the Lanzarote Effect.
Lanzarote is an amazing destination for holidays, to relax yourself and play golf. The average temperature is a pleasant 22 degrees to enjoy all year round plus 2 golf courses are all you need to enjoy your favourite sport
As a Lanzarote lover, I would like to share with you my favourite places to visit during your stay in the Island: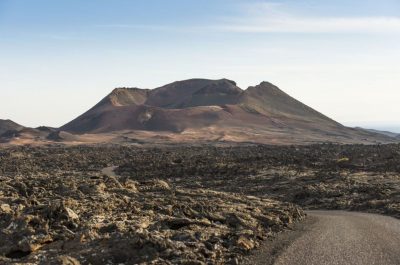 "The Timanfaya National Park is a walk on the Moon on earth"
That work of art, was the result of a extraordinary combination of humankind and nature, without a doubt, one of the most impressive pieces in the world.
The furnace in El Diablo Restaurant uses the natural heat of the earth to cook unique dishes right under our feet, ten metres deep, at almost 300 degrees. Extreme heat that comes out to the surface and creates unforgettable moments for visitors.
In addition, Insolita – Montañas del Fuego is a premium experience to help you feel the volcanic strength and energy of the Timanfaya National Park. Small groups can exceptionally access areas that are usually closed off to visitors and an aperitif tasting with local products and Lanzarote wine is also included.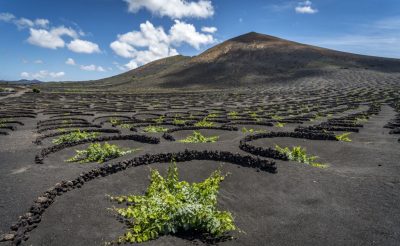 "La Geria, a landscape from Another Planet"
The wine of Lanzarote is lava, sun, ash… The agriculture has been adapted to the volcanic surroundings giving rise to scenery that is like no other in the world and that many have compared to an extraterrestrial landscape. This distinctive method of cultivation can be seen mainly in the central area of the island, on the route that goes from Monumento al Campesino (Monument to the Farmer) to Uga. Along this road there are also a large number of bodegas (wineries) that can be visited. I recommend you to stop on your way to taste the wines made from Malvasia grapes grown on volcanic rock, while contemplating this unique landscape.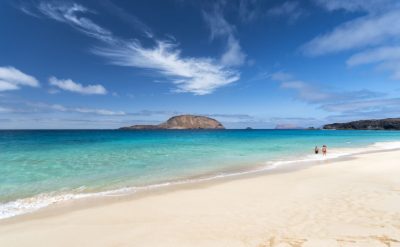 "La Graciosa by bike"
This is a fantastic way of exploring La Graciosa and its exotic landscape. It is 30 minutes away from Lanzarote by boat and is part of the Chinijo Archipielago Natural Park and the biggest Marine Reserve in Europe – a veritable jewel of biodiversity.
La Graciosa is one of the last places in the world with no asphalted roads.   There are trails leading to the most special and hidden corners of this tiny island as Las Conchas Beach, La Francesa Beach, the Yellow Mountain or its small and picturesque villages as Caleta de Sebo or Pedro Barba."
Lanzarote, Canary Islands, Spain Golf Clubs & Golf Courses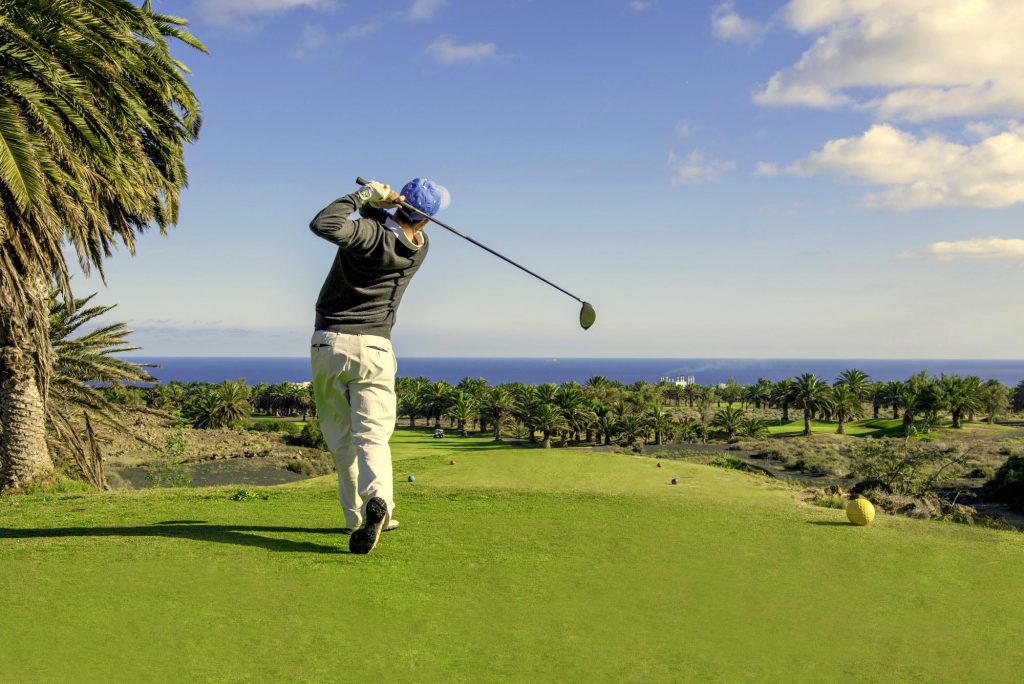 With just the 2 golf courses on the island, Lanzarote is really a holiday destination with the possibility of playing golf, however it is very possible to spend a whole week here on these 2 courses if you choose as they are both entertaining and challenging!
Alongside their 18 hole golf courses, both Lanzarote Golf Club and Costa Teguise Golf Club offer full practice facilities for individuals and groups escorted for a tuition break by their PGA professionals.
Costa Teguise Golf is just outside one of the main resort areas of Lanzarote (also named Costa Teguise) and is a decent track with good scoring opportunities throughout.
Lanzarote Golf Club is a slightly newer course in a more modern style and features great sea views from pretty much every single hole – even though it is located some distance from the coast.
Both courses are easily walkable if you wish, although some of the higher temperatures that are experienced on Lanzarote from March – October do result in most visitors needing a buggy for their rounds of golf here!
Top Tip from Jonathan at The Golf Travel People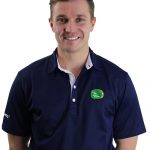 "Lanzarote is a place for real relaxation and even on the island's two eighteen hole golf courses you are sure to enjoy that relaxing atmosphere too.
This is holiday golf in it's purest form – no pressure, just enjoy the golf course and being in a lovely environment – and you will be sure to enjoy your golfing experience on Lanzarote.
The 2 Lanzarote golf courses – Costa Teguise and Lanzarote Golf – are quite different in terms of design, layout and style, but both offer a good standard of golf course with extensive practice facilities and clubhouses.
However my own personal preference would be to play at Costa Teguise as it's tree lined fairways offer a bit more challenge than the more open aspects to be found at Lanzarote Golf."
Lanzarote, Canary Islands, Spain Golf Resorts & Golf Hotels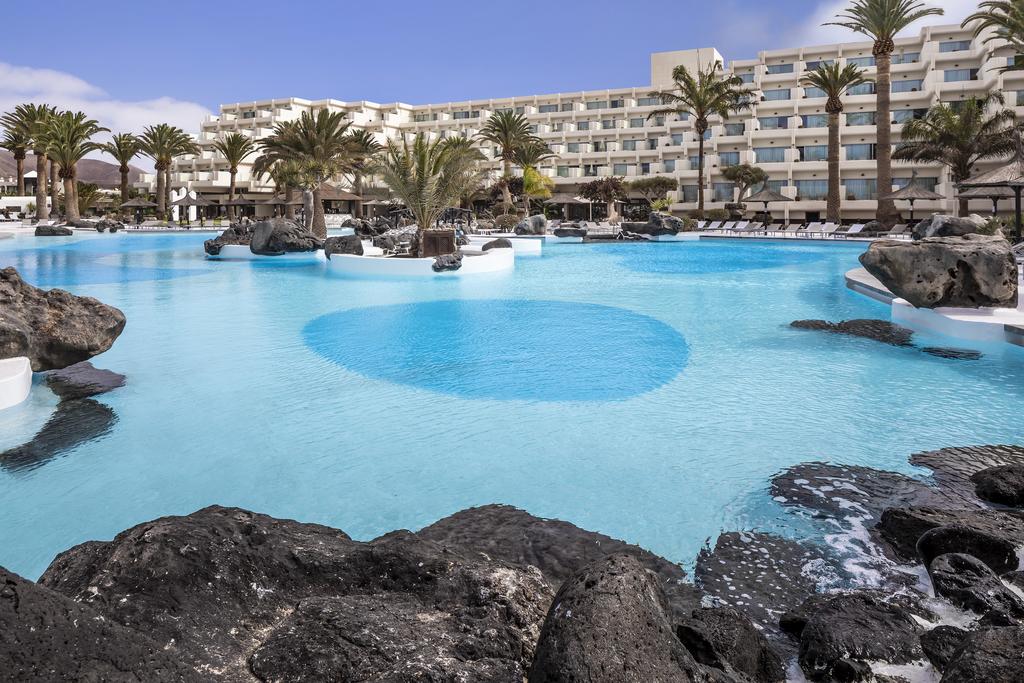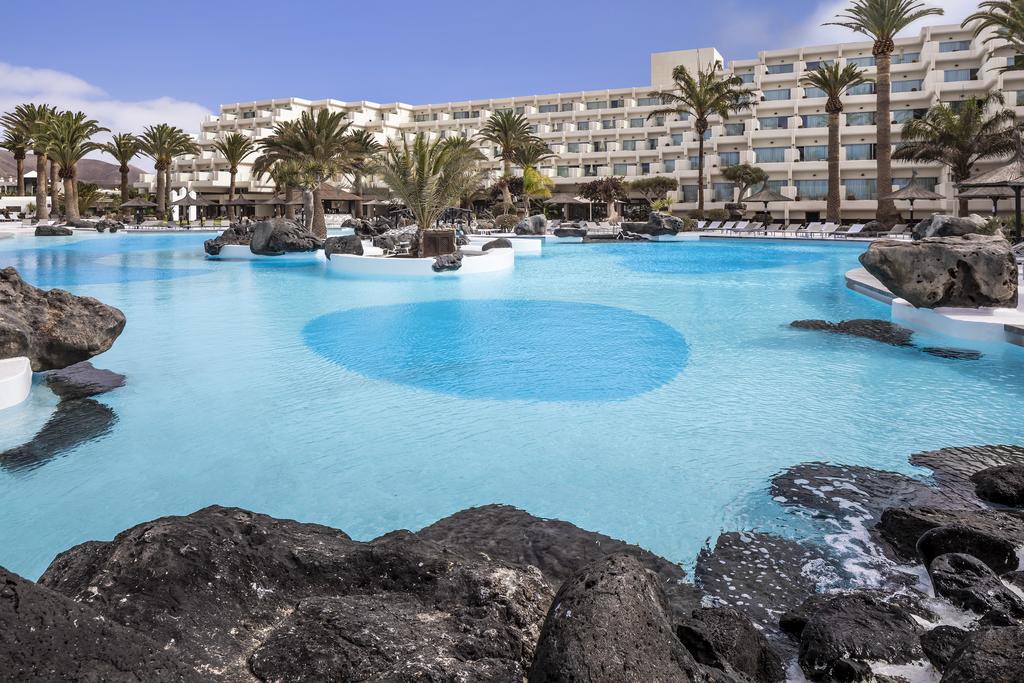 Although Lanzarote might only have 2 golf courses, there are plenty of excellent accommodation options to choose from, including a range of superb 4 and 5 star hotels that are certain to fulfil your personal holiday accommodation requirements.
Conveniently located to either side of the airport and the capital city of Lanzarote – Arrecife, the 2 main resort areas of Costa Teguise and Puerto del Carmen tend to be the most popular areas for visitors to Lanzarote to base themselves for their holiday, and both resorts feature many different hotels, apartments, villas and more. 
Alongside these extensive options for your holiday accommodation come all the various bars, restaurants, shopping centres, leisure services and much, much more… which when combined make Lanzarote a very convenient and rightly popular holiday destination.
Further to the south, the port town of Playa Blanca also offers a range of hotel and self catering accommodation plus options abound through the smaller towns and villages on Lanzarote to find self catering villas and apartments for a holiday here with more privacy.
So, if our hand-selected range of Lanzarote hotels and accommodation doesn't quite suit your requirements, be sure to let us know and we can certainly find other options for you!
Frequently Asked Questions about Lanzarote, Canary Islands, Spain