Top tips for organising a group golf holiday
Published on 10th June 2020 by
Dan Thomson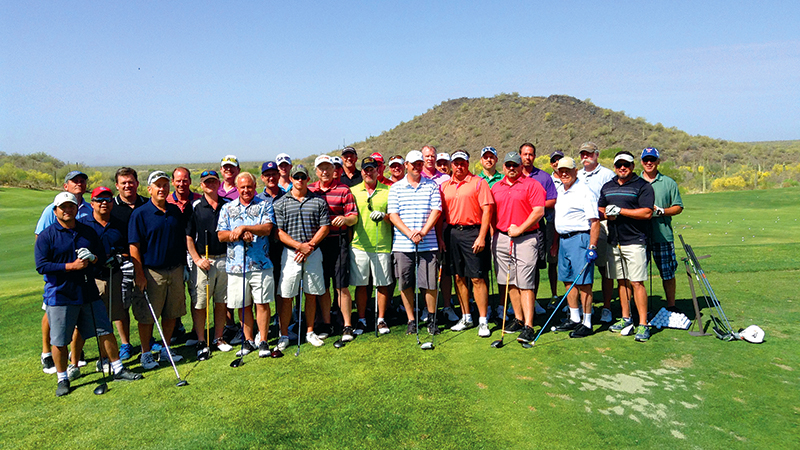 So, you have been given the role of group organiser for this year's golf break, or perhaps your prize for winning last year's tour was to organise this one! Well, if it is your first time or you are a seasoned pro here are the top tips for organising a group golf holiday.
Organising a group in any situation is a tough task… the bigger the group, the harder the job and the more opinions you have to deal with of where the best, cheapest and warmest place to play golf is! Follow our advice below in this order and it should make life much easier.

Tip 1 – Preparation
Seems obvious but planning before proposing anything to the group for discussion is vital. The worst situation you can be in is 7 other golfers all proposing 3 different resorts, each for different dates… you will end up with a lot of golf courses to research and even more arguments.
Ask the group for any preferred destinations, dates and if they want you to aim towards a certain budget.

Tip 2 – Flights
If you cannot get there, you've just wasted a full day's work researching and gathering quotes for your preferred resorts. Once the group have proposed any preferred destinations its worth checking you can secure flights to the nearest airport. At least if there's no flights, it's one less resort for the group to argue about! Here's a list of all the major airports you can access close to the best golf destinations in Europe:
Faro (FAO) – The Algarve
Lisbon (LIS) – Cascais, Lisbon and the Silver Coast
Seville (SVQ)/Jerez (XRY) – Seville, Costa de la Luz
Malaga (AGP) – Costa del Sol
Alicante (ALC)/Murcia (RMU) – Costa Blanca/Costa Calida
Antalya (AYT) – Belek, Turkey
Kalamata (KLX) – Costa Navarino
See our flights page for more assistance with planning your golf holiday flights.
Tip 3 – Where to go?
Well, where do we start! There is that much choice we have a specific blog post that is perfect for this tip. Please follow the link for the best places to take your group: https://golftravelpeople.com/golf-inspiration/cheap-golfing-holidays-for-groups/
Tip 4 – Get specific quotes
That little word 'FROM' – maybe the most misleading word in the dictionary when it comes to golf holiday pricing! And this word might start to haunt you the more tours you organise.
All groups have the 'back seat tour leader' who just forward deal after deal and doesn't read the small print. Most of the offers look great on first inspection, cheap, high quality, and perfect location. However, most of the time the back-seat tour leader misses that key word which is often in small print 'from £99pp'. The best advice I can give when gathering prices and quotations for your golf holiday is to always give as much information as possible to secure the best price available for your group's requirements. The last thing groups want is to secure the FROM price at £99pp, to only find out on arrival you need to pay for breakfast, transfers to the golf course and buggies. Perhaps some courses would charge you extra to play the 18th if they could!
Tip 5 – Less is more
So, you've taken everyone's requirements, had a look at destinations accessible from your nearest airport, filtered down your options though our cheap golf holidays for groups blog, secured specific quotations for your dates which match with flights, group size and groups requirements. Time to forward all your hard work to the group. My advice is not give them too many options! 3 quotes max!

Tip 6 – Deposits
Getting deposits from your group members is the key to any holiday which really gives the group leader a good idea of who is really meaning business and not just enjoying looking at hotels online. Most Golf Tour Operators will require deposit payments anyway and flights are usually pre-paid in full. However, if for any circumstances you're offered a free cancellation I would always advise to take a small deposit from everyone just so you have their full commitment. It's very easy for people to 'forget' or make other plans when there's no money transferred and its surprising how quickly it's on the calendar when a £20 deposit has been paid.
Tip 7 – Learn more about the resort and destination
So now your deposits are paid you have a secured booking with a fixed number of guests. Even though you're not local to your golf travel destination, you will be the first person that everyone asks for the liveliest bars, best restaurants, how much is a taxi into town etc etc. Therefore, I would always advise to read up on the resort and the local area. Each resort we offer has full information on their specific page, and we have also built a new travel guides section where you can read up about the specific destination you're travelling to: https://golftravelpeople.com/travel-guides/

Tip 8 – Relax
That's it, your job is done… until next year! Enjoy the golf holiday you have organised and put everything in place… what can possibly go wrong?!
For further guidance on planning your groups next golf holiday please do not hesitate to contact us on 03300 174 851 or enquiries@golftravelpeople.com