Introduction to Vilamoura in the Algarve, Portugal
Vilamoura needs little or no introduction for most visitors to the Algarve as it has been one of the most successful resorts in Portugal for many years now – and much of it's fame and success has been built around golf!
It's origins as a holiday destination lie in the 1960's when the developers began to create what was to become the Vilamoura we know today around the small harbour that had been used for many centuries by the local fishermen.  They would no doubt have quite a surprise if they were to revisit today to see what Vilamoura has become in the intervening years!
The old harbour has become one of Europe's largest marinas and plays host all year around to some of the finest floating gin palaces and all shapes and sizes of other sea-going craft, alongside an extensive tourist offering of hotels, apartments and other accommodation plus the requisite bars, restaurants, shops, casino, leisure facilities etc that a modern tourist destination needs.
Add to this the wonderful golden sands of the Algarve beaches and it is easy to understand why Vilamoura is so popular all year around with tourists seeking fun and relaxation.
For golfers, the attraction of Vilamoura is simple to understand – with the 5 Dom Pedro Collection Vilamoura golf courses all located within minutes of the centre of the resort and offering a world-class golfing experience to all visiting players.  Adjacent to Vilamoura are further excellent golfing options at Quinta do Lago and Vale do Lobo, so it is very easy to include these resorts in a Vilamoura holiday itinerary too…
Location Map of Vilamoura, Algarve, Portugal
When to Travel to Vilamoura, Algarve, Portugal
Like most of the destinations along the southern coastlines of Portugal and Spain, Vilamoura is a year-round holiday destination so is very popular for 12 months of the year.  Summer holiday months tend to be for the usual family school holidays, but for visitors without children with them, a visit to Vilamoura is recommended at any other time of the year…
Golf high season in Vilamoura is to be enjoyed in March, April, May, September, October and November and that is when the green fee rates tend to be the highest, but the weather is usually absolutely perfect to enjoy the stunning conditions to be found on the Vilamoura golf courses, but excellent playing conditions can be found all year around as when course maintenance takes place as it must, you still have a good choice of golf courses available for play in the resort area…
Even in the height of summer it is generally never too hot, and in the winter it is rare for the temperatures to drop much below 10 degrees in the middle of the day, so for almost any of the many of the wide variety of outdoor activities to be found in Vilamoura the weather conditions are usually fantastic!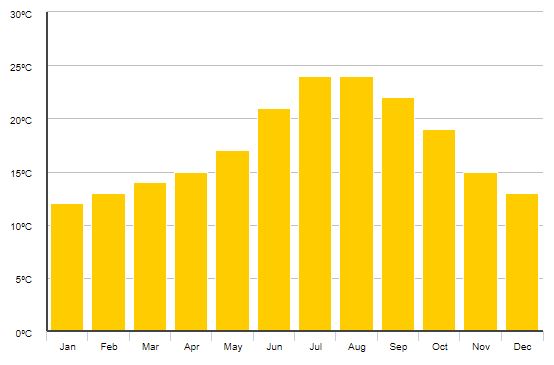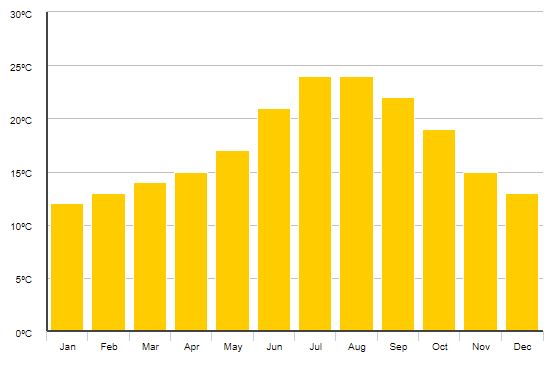 Average Temperatures in Vilamoura, Algarve, Portugal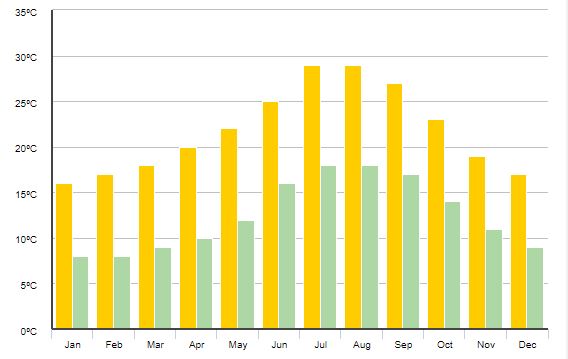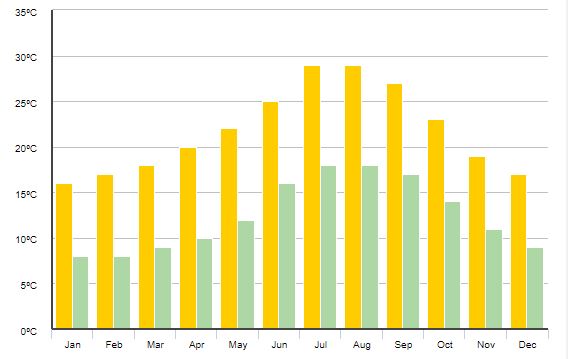 Average Temperature Ranges in Vilamoura, Algarve, Portugal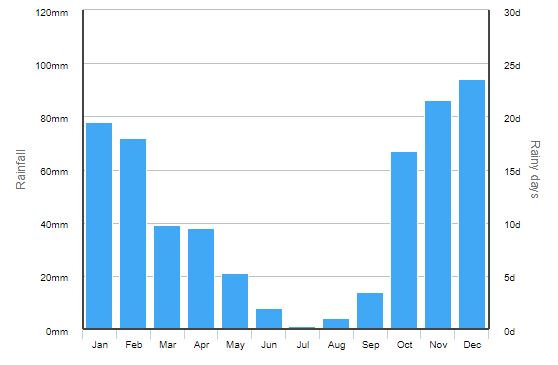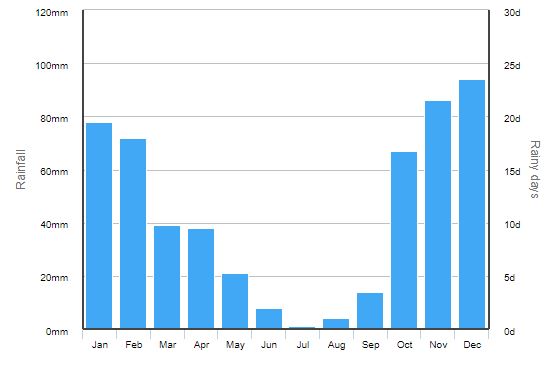 Average Rainfall in Vilamoura, Algarve, Portugal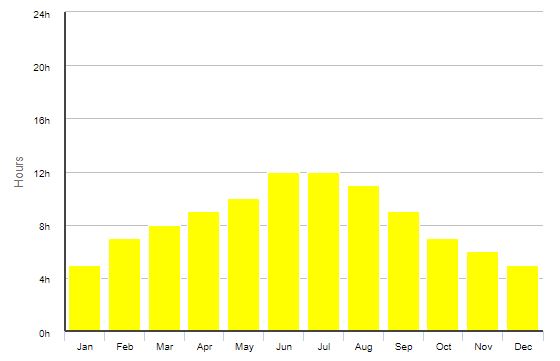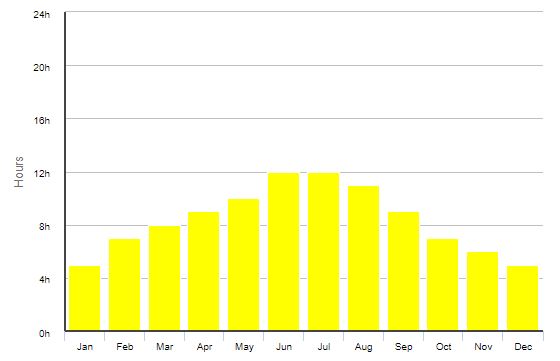 Average Daily Sunshine Hours in Vilamoura, Algarve, Portugal
Top Tip from Andrew at The Golf Travel People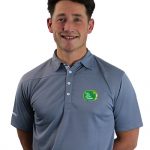 "Both my colleague Jonathan and I were fortunate to spend an extended period in Vilamoura during our university golf and business management degree courses and this was a really enjoyable time for everyone concerned.
There are so many great places to eat, drink and play golf in the Vilamoura area it is hard to pick only one or 2 out as part of my top tips, so all I will say is that many of the better quality bars and restaurants can be found on the Western side of the marina which is generally slightly less crowded than the opposite end of the harbour.
Having said that, the whole marina is pretty lively all night and at all times of the year and a classic stopping off point for golfers is the 19th Hole Bar located on the marina close to the Tivoli Hotel that dominates the southern skyline."
Getting to the Vilamoura, Algarve, Portugal

The Algarve is very well served by many airlines from across Europe and the world who fly directly into Faro Airport which is a familiar gateway to Portugal for many visitors.
In the unlikely event that you cannot source a flight to Faro, then Lisbon is further from the golf resorts of Vilamoura, but is still only 2.5 hours drive from the resort, so is a perfectly viable alternative arrival airport
However, most visitors to the Vilamoura area do arrive via Faro Airport and access to the resort is very simple with journey times of under 30 minutes from the airport to the marina hub of Vilamoura.
Something to to consider when driving on Portugal's motorways are the tolls that are automatically charged via a transponder in your rental car but even with the toll charges in place the cost of the drive from Faro to Vilamoura is only a few Euros in total for most vehicles.  However, stick to the old "A" road the N125 and there are no tolls to be paid.
Top Tip from Dan at The Golf Travel People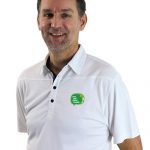 "My recommendation for a stay in Vilamoura is to book airport and golf transfers as they are really cost effective and save you the hassles of renting a hire car for your visit to Vilamoura.
The cost of the airport transfer is really low as the journey is only 25km door to door and many of the hotels offer free transfers to the 5 Dom Pedro Vilamoura golf courses.  Added to this is the option of the free Vilamoura Resort Shuttle service that connects the marina area and many of the hotels to the 5 golf courses and it is easy to get around the whole area without spending a penny on extra transportation.
Even if you don't use the many free transfer options, taxis are plentiful and cheap, and therefore Vilamoura is one of the best connected golf resorts in the world!"
Our partners recommend...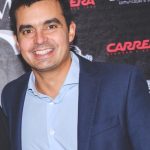 We asked our old friend Mr Joao Araujo from Minor Hotels who manage the Tivoli and Anantara Hotels in Vilamoura to provide his view of some great places to visit in the Vilamoura area of the Algarve and we are delighted to pass on his recommendations here: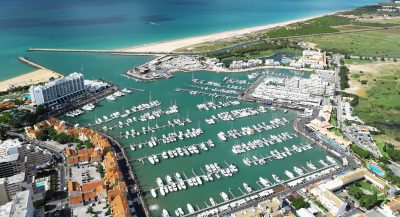 Marina of Vilamoura: This is definitely a 1st stop in your trip to Vilamoura, the luxury of the boats and the open air Marina is a great youth tonic to all travellers. The variety of Restaurants, shops and Bars are a plus. Restaurants like the Puro Beach (in front of the Tivoli Marina Vilamoura), the Peppers Steakhouse, the News, El Patron, Akvavit, Thai Vilamoura are certified for high food quality! For night life, the Irish Cabin will transport you to a lively Irish Pub where normally you end up dancing on top of the tables…what happens there, stays there!
Faro: The Algarve´s Capital is only a 20 minute drive from Vilamoura and combines it all, local and touristic attractions, culture, sports and a great historical heritage. The citys Old Castle is a must go place, there is plenty of museums, restaurants, bars and historical buildings to see. If you are looking to watch some football, the Estadio São Luis will be your next stop, the mighty Farense (2nd league team atm) will grant you a feeling of Portuguese football. The small marina provides you with great outside terraces to have cheap pints and great views!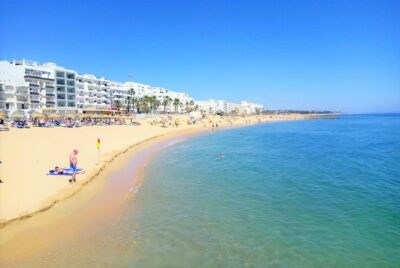 Quarteira: a unique local place to visit, just next to Vilamoura, 5 minutes driving or 20 walking. This is where the locals live, the fish market and the "calçadão" (walk) by the beach will provide you with great sightseeing's on a relaxed atmosphere. There is a considerable difference in prices from Vilamoura to Quarteira, the same pint in Quarteira might cost you half of what you pay in Vilamoura.
Golf Clubs & Golf Courses of Vilamoura, Algarve, Portugal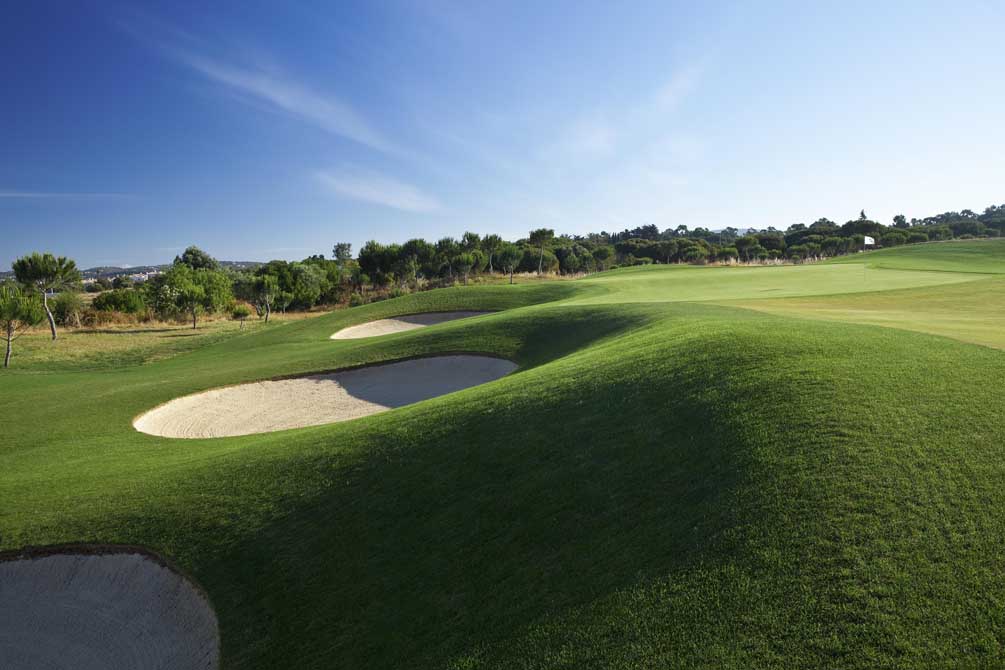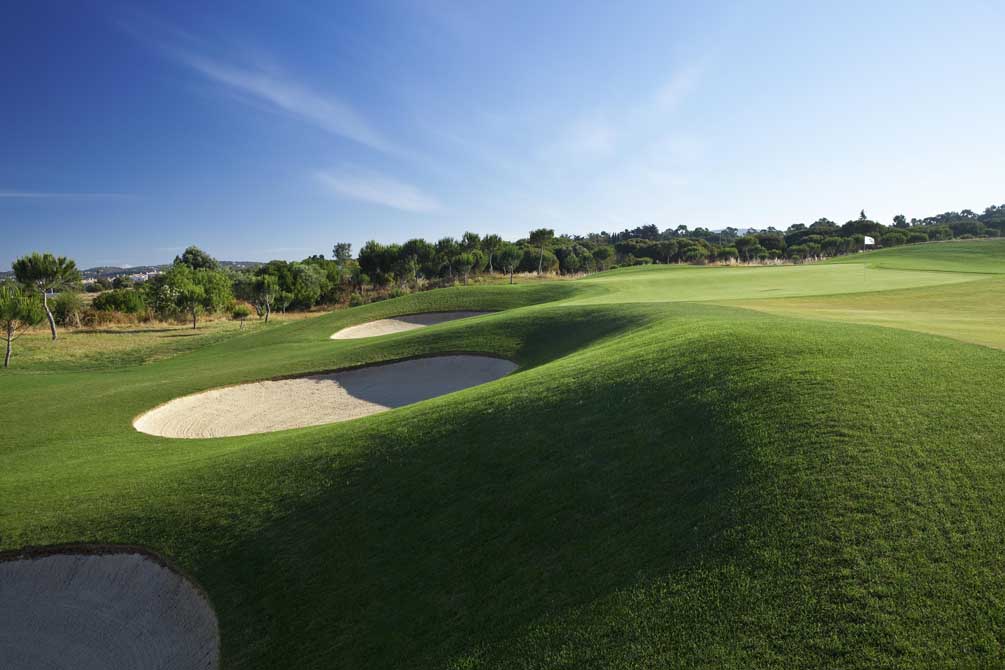 The 5 Dom Pedro Collection Vilamoura golf courses – previously known as the Oceanico courses – are familiar to many golfers and have been ever-popular since their development into the 5-course group in the early 2000's.
However, golf has been played in Vilamoura for a lot longer than that, as Dom Pedro Vilamoura Old Course opened in the late 1960's and Dom Pedro Vilamoura Pinhal was first open for play in the mid-1970's…
With well-known golf course designers and architects such as Arnold Palmer, Robert Trent-Jones and Frank Pennink having all worked their magic over the land in the Vilamoura area to produce some superb layouts, any visiting golfer is sure to enjoy the spectacular golfing experiences available here in Vilamoura.
The pedigree of the Dom Pedro Collection Vilamoura golf courses is unquestionable with all of the courses having hosted top level professional and amateur tournaments, and the Victoria course currently being the annual venue of one of the European Tour's flagship events – the Portugal Masters.
The most cost-effective way to enjoy a Stay and Play golf break in Vilamoura is to book one of the Dom Pedro Hotels and Golf packages that combine excellent hotel accommodation in the marina area with golf over the 5 Dom Pedro Collection Vilamoura golf courses, however even if you aren't using a Dom Pedro Hotel it is still very possible to access fantastic packages to play the Vilamoura golf courses.
The following list of the Vilamoura golf courses is ranked – in our opinion – in quality order, but the only way to be sure of this yourself is to play all 5 on one of our excellent value special deals and make your own judgement to see if you agree with us!
Top Tip from Jonathan at The Golf Travel People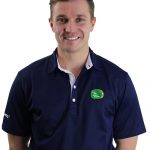 "Stay for at least 5 nights in Vilamoura and play all 5 of the Dom Pedro Collection Vilamoura golf courses is my straightforward tip!
A golf break in Vilamoura really is that simple and with plenty of superb hotels and other accommodation options available to suite all tastes and budgets, anyone can easily enjoy a golf holiday here with little fuss.
In my view staying at one of the Dom Pedro Vilamoura Hotels is a good choice as the packages are the best value due to the fact that the hotel company now owns the 5 golf courses, but even if you book one of the other hotels and we build a bespoke stay and play deal that includes golf courses in other regions alongside your Vilamoura hotel, the you are certain to enjoy your golf break in Vilamoura…"
Vilamoura, Algarve, Portugal Golf Resorts & Golf Hotels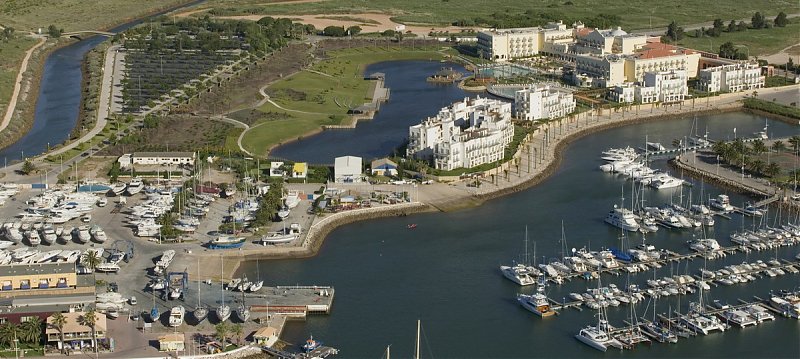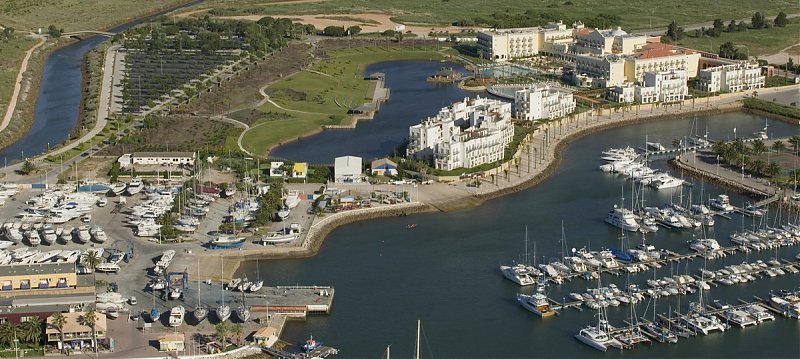 Vilamoura has so many fantastic hotel and accommodation options available that it is sometimes difficult for our clients to select with confidence the best choice for their specific accommodation requirements for their golf break in this part of the Algarve.
So, that is why The Golf Travel People have hand-selected a range of 4 and 5 star hotels and apartments in Vilamoura that we are certain will be a great choice for your next golf break here…
However, if your preferred accommodation for your golf holiday in Vilamoura is not listed below, feel free to ask us for a quotation anyway, as we are experts in building bespoke golf holidays that include your choice of accommodation alongside golf packages at the superb Dom Pedro Collection Vilamoura golf courses.
Our personal favourites and recommended options for a golf break in Vilamoura include the 4 star Laguna Resort, the 5 star Lake Spa Resort – which is actually the highest rated Vilamoura hotel on Trip Advisor, the 5 star Tivoli Marina and Anantara Victoria Hotels and for a budget option right in the heart of the Marina then the Luna Olympus Apartments are a steady favourite for groups.
Added to these, we will always recommend using any of the Dom Pedro Vilamoura Hotels for your golf package, as these tend to be extremely convenient because the Dom Pedro Group now also own the 5 Vilamoura golf courses…
Contact us soon for your personal no-obligation quotation or for any further details you require about a golf holiday in Vilamoura!
Frequently Asked Questions about Vilamoura in the Algarve, Portugal